The U.S. economy remained around potential in August, with softer labor market prints pointing to lower momentum in hiring against the backdrop of a secularly tight labor market. The Astor Economic Index® has ticked up slightly, but remains range bound in the average to below average economic growth.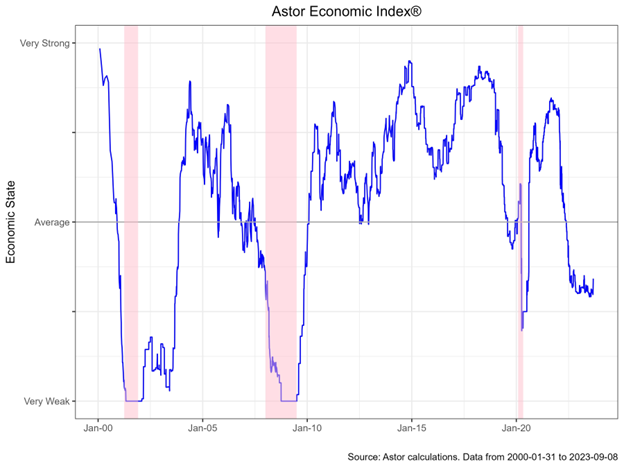 As we've said in the past, the story of inflation domestically is presaged by the labor market, which has been secularly tight for some time. Non-farm payrolls came in at a respectable 187,00 gain m/m, with prior months revised downwards and U3 unemployment ticking up to 3.8% as the labor force participation rate increased to 62.8%. The August print reinforced the theme of normalization in payrolls, with the prior three months averaging 149,000 m/m – well below the post-Covid trend, and more in line with an economy at equilibrium. A cooler labor market is probably necessary for the Fed to meet its inflation target: a tight labor market leads to higher wages and thus consumer spending and inflation (absent a productivity bump).
There are other signs beyond non-farm payrolls that labor hording is become less prevalent. Employees on temporary help services are usually the first to be dismissed in a cooling economy, and we've seen their number decline over the past few months (panel 1 below). However, new claims for unemployment insurance remain very low, suggesting that any incipient weakness hasn't spilled over to full time employees.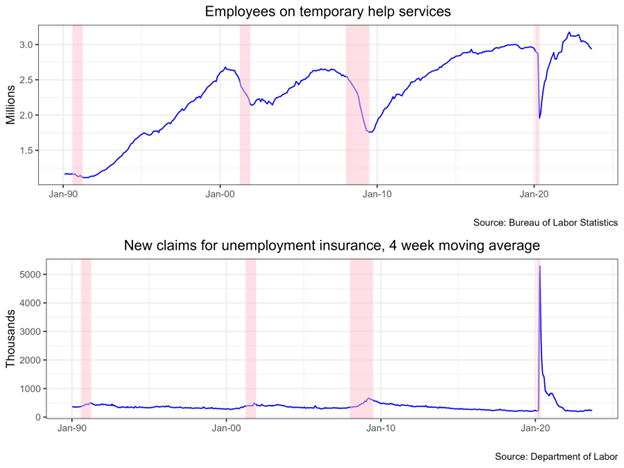 Economic growth in the U.S. is largely driven by consumption, with the bulk of the Atlanta Fed's GDP Now forecast of 5.6% for q3 driven by consumer spending. Although the consumer remains strong, they are likely to face two headwinds over the next few months. First, the drawdown on so called "excess savings" from fiscal stimulus is probably nearly complete, which should curtail spending habits to more normal levels. Second, Americans have begun to repay student loans once again following the end of forbearance, which is about a $65b cut to household incomes in 2023 (Source: Joseph Politano Twitter/X, US Treasury Data).
Of course, neither of these may end up mattering: as Matt Klein notes, aggregate wage income tends to drive consumer spending, and real wages have recently turned positive (Source: Matt Klein, theovershoot.co, "U.S. Job Churn Has Normalized."). Either way, consumption, inflation, and the labor market are indelibly linked, and we will be watching faster frequency signs of the labor market to understand the near-term trajectory in inflation and Fed policy closely in the months to come.
Astor Investment Management LLC is a registered investment adviser with the SEC. All information contained herein is for informational purposes only. This is not a solicitation to offer investment advice or services in any state where to do so would be unlawful. Analysis and research are provided for informational purposes only, not for trading or investing purposes. All opinions expressed are as of the date of publication and subject to change. They are not intended as investment recommendations. These materials contain general information and have not been tailored for any specific recipient. There is no assurance that Astor's investment programs will produce profitable returns or that any account will have similar results. You may lose money. Past results are no guarantee of future results. Please refer to Astor's Form ADV Part 2A Brochure for additional information regarding fees, risks, and services.
The Astor Economic Index®: The Astor Economic Index® is a proprietary index created by Astor Investment Management LLC. It represents an aggregation of various economic data points. The Astor Economic Index® is designed to track the varying levels of growth within the U.S. economy by analyzing current trends against historical data. The Astor Economic Index® is not an investable product. The Astor Economic Index® should not be used as the sole determining factor for your investment decisions. The Index is based on retroactive data points and may be subject to hindsight bias. There is no guarantee the Index will produce the same results in the future. All conclusions are those of Astor and are subject to change. Astor Economic Index® is a registered trademark of Astor Investment Management LLC.
MAS-M-424172-2023-09-11