We believe that diligent analysis of economic data can provide valuable signals for longer-term financial market allocations. Our research is based on economic theory vetted by rigorous analysis and research. History has shown periods of severe economic stress (i.e. recessions) often coincide with substantial drawdowns in the stock market. Astor's analysis seeks to identify signs of weakness as they start to appear. Astor uses the information from its analysis in an attempt to reduce client participation in these drawdowns.
ASTOR'S INVESTMENT PHILOSOPHY IS BASED ON THREE KEY BELIEFS:
ECONOMIC FUNDAMENTALS MATTER
Stocks Tend to Appreciate
Active Management is Beneficial
Our process is systematic, repeatable, and researched.
Utilizing current economic data and historical trend analysis, Astor seeks to identify the level of appropriate risk for the current environment.
The Investment Committee (IC) formally meets on a monthly basis to review indicators and decide whether portfolio adjustments are warranted.
Once the Investment Committee has made its decision(s) on allocations, it will select appropriate exchange-traded funds (ETFs) to achieve exposure within the strategies.
ASTOR ECONOMIC INDEX® - THE CORNERSTONE OF ASTOR'S INVESTMENT PROCESS
A Real Time Snapshot of the Current State of the U.S. Economy
Astor's proprietary economic indicator, the AEI aggregates a multiple series of unrelated, real-time economic data points in an attempt to create what we believe is a smoother and more accurate "live read" on the economy. It provides a fundamentally driven, macroeconomics-based solution for determining equity exposure (beta) in portfolios.
Astor Economic Index® as of 6/30/2018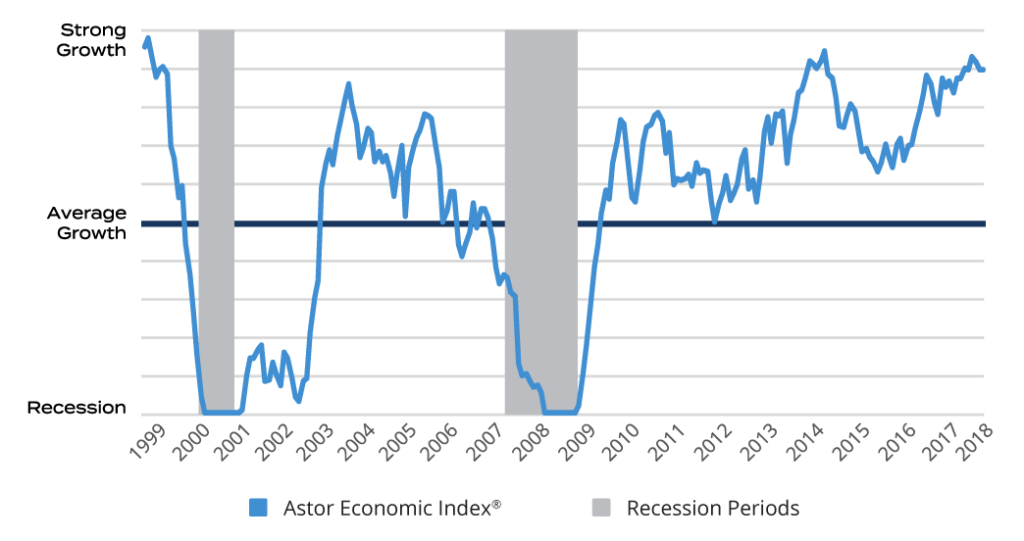 Source: Astor Data: 12/31/1999-6/30/2018. The Astor Economic Index is a registered trademark of Astor Investment Management LLC. The Astor Economic Index R should not be used as the sole determining factor for your investment decisions. The Index is based on retroactive data points and may be subject to hindsight bias. There is no guarantee the Index will produce the same results in the future. All conclusions are those of Astor and are subject to change.
All information contained herein is for informational purposes only. This is not a solicitation to offer investment advice or services in any state where to do so would be unlawful. Analysis and research are provided for informational purposes only, not for trading or investing purposes. All opinions expressed are as of the date of publication and subject to change. Astor and its affiliates are not liable for the accuracy, usefulness or availability of any such information or liable for any trading or investing based on such information. 2017-128