The Astor Economic Index crossed the Rubicon (or perhaps just the Delaware) in May, ending the month just below the 0 line and at a level consistent with (barely) below average economic growth.  Note that the AEI is suggesting that the pace of growth in the US has slowed, but is not yet at a level that typically coincides with periods of negative growth (i.e. recessions).
We delve into some of the drivers below: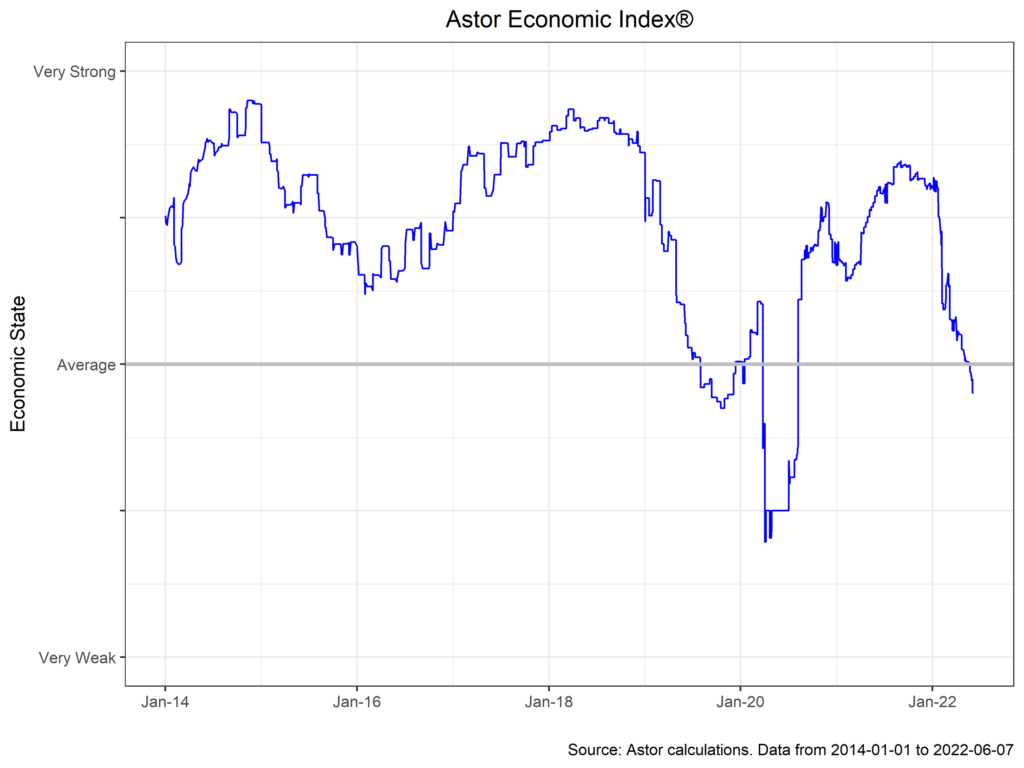 Labor market hiring has cooled slightly in recent months, although all evidence suggests robust demand from employers for employees. Non-farm payrolls were up a solid 390,000, beating expectations, and U6 unemployment, which includes part time workers, ticked up slightly to 7.1%.  Hiring continued across most industries and was particularly notable in service industries.  We have talked about the need for consumers to revert consumption habits back to services from goods and hiring patterns in industries such as labor and hospitality indicate that this is well under way.
Signs of cooling are also apparent in Purchasing Manager Indexes, with the ISM PMIs for both manufacturing and non-manufacturing haven fallen notably since their post-pandemic heights.  As with the labor market, the data here are still telling a positive story, with recent prints well into expansion territory.  Nonetheless, the recent slowing bears consideration, with respondents indicating continued difficulties with input prices, delivery times and hiring.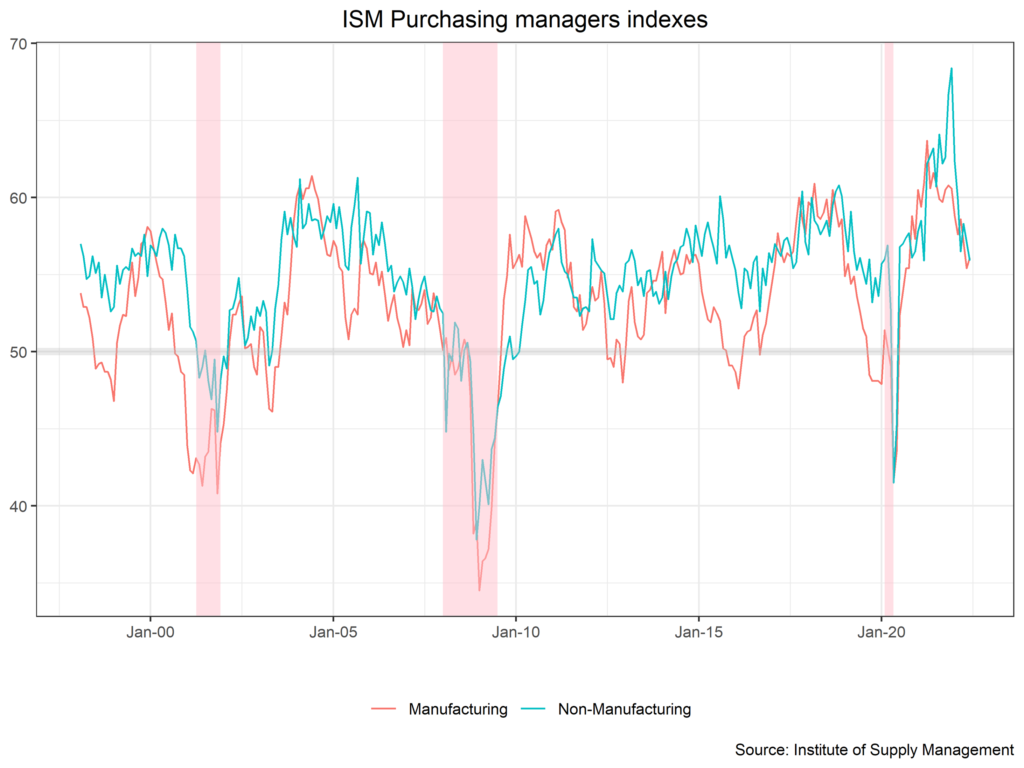 It is also worth noting that consumers are increasingly bearish on the economic outlook – flush bank accounts, easy to find employment and a lessening pandemic notwithstanding. The Astor Consumer Sentiment Index (an aggregation of several similar indexes) is nearing remarkable lows. Similar readings have been seen around recessions, of course, it is very unusual for a wide swath of the U.S. consumer to be unhappy with the state of the economy when jobs are plentiful, and the economy is humming along at a decent clip.   The rapid pace of inflation is likely to blame for dwindling sentiment, with much of the labor market experiencing real wage cuts and feeling the high cost of most household items.  Importantly, we have yet to see this feed into decreased spending or demand, but changes in consumption habits will bear close watching over the coming months.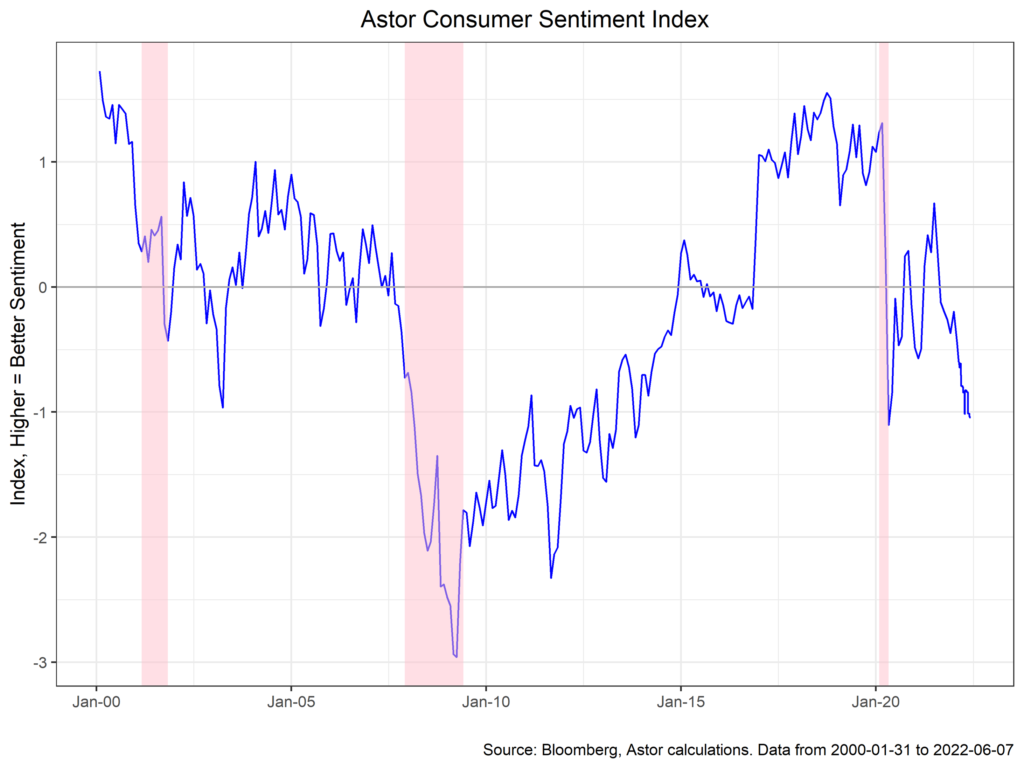 Astor Investment Management LLC is a registered investment adviser with the SEC. All information contained herein is for informational purposes only. This is not a solicitation to offer investment advice or services in any state where to do so would be unlawful. Analysis and research are provided for informational purposes only, not for trading or investing purposes. All opinions expressed are as of the date of publication and subject to change. They are not intended as investment recommendations. These materials contain general information and have not been tailored for any specific recipient. There is no assurance that Astor's investment programs will produce profitable returns or that any account will have similar results. You may lose money. Past results are no guarantee of future results. Please refer to Astor's Form ADV Part 2A Brochure for additional information regarding fees, risks, and services.
The Astor Economic Index® : The Astor Economic Index® is a proprietary index created by Astor Investment Management LLC. It represents an aggregation of various economic data points. The Astor Economic Index® is designed to track the varying levels of growth within the U.S. economy by analyzing current trends against historical data. The Astor Economic Index® is not an investable product. The Astor Economic Index® should not be used as the sole determining factor for your investment decisions. The Index is based on retroactive data points and may be subject to hindsight bias. There is no guarantee the Index will produce the same results in the future. All conclusions are those of Astor and are subject to change. Astor Economic Index® is a registered trademark of Astor Investment Management LLC.
MAS-M-277211-2022-06-08