In our view, the U.S. economy is well on its way to cooling to its pre-pandemic potential, and a soft landing (with stable payrolls and slightly above average inflation) is more likely today than in the recent past. Refraining from over extrapolating any given data point will be important going forward – the economy, and inflation in particular, is likely to take several twists and turns over the next few months. The Astor Economic Index® is in line with an economy around or slightly below potential output, as it has been since the beginning of the year.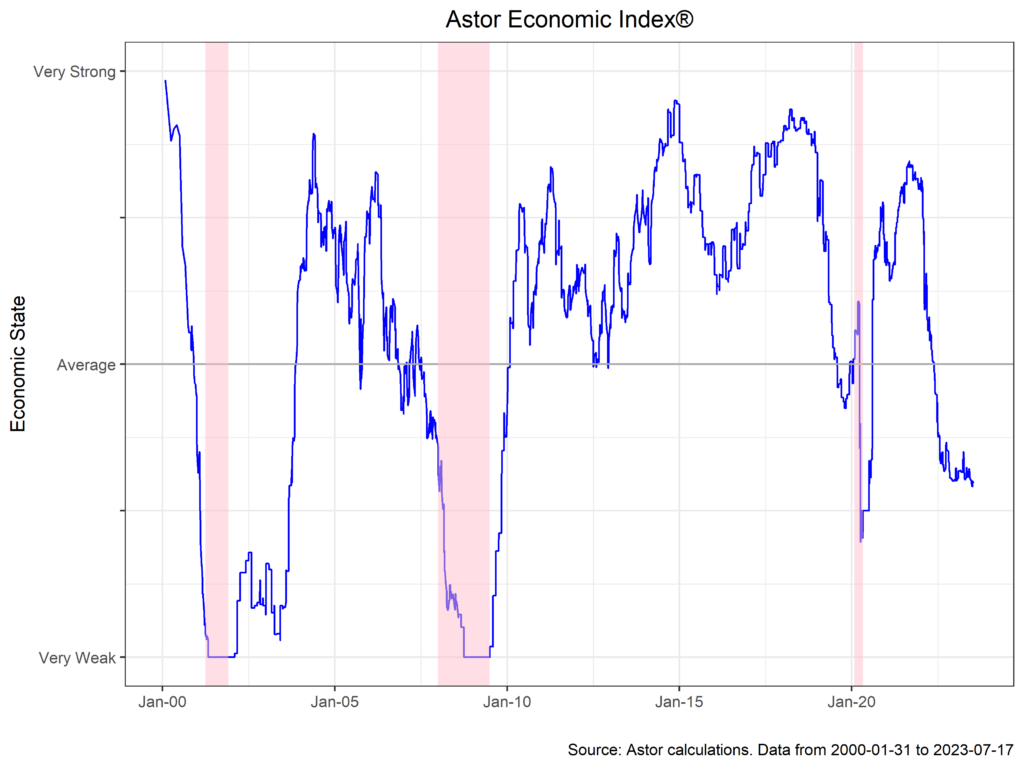 We've talked much in the past about the importance of the labor market for the continued strength of the U.S. economy, and the most recent nonfarm payroll print of 209,000 shows that a recession is some ways away. Nonetheless, the rate at which jobs are being added to the economy has slowed considerably over the past 12 months, consistent with the cumulative impact of rate hikes and a normalization of general economic conditions. Prior months were also revised downwards as well, and continuing claims remain muted.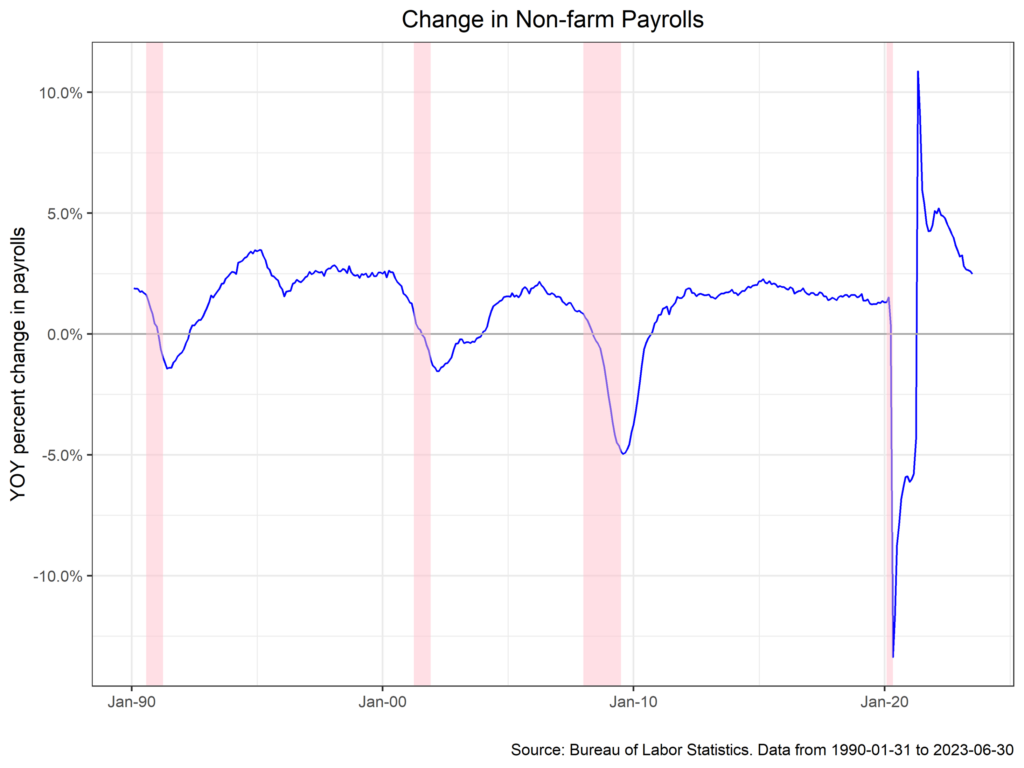 The Consumer Price Index for the month of June was also a pleasant downside surprise, printing at 3% y/y (0.2% m/m), with core at 4.8% y/y, versus the survey average of 5%. As usual, core inflation was driven by services, especially housing. Excluding housing, core services were up by 4% y/y, but essentially flat on the month.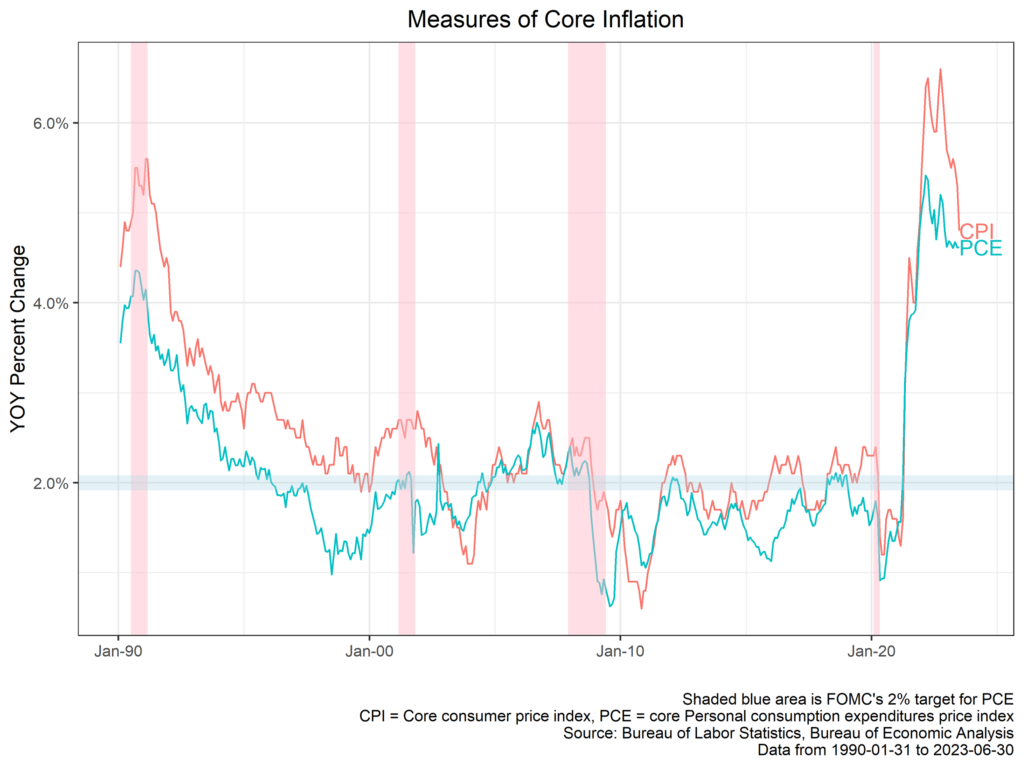 We believe the Federal Reserve will be pleased with the progress made in both looser (or at least, less tight) labor conditions and general price pressures. A slew of Fed speakers has pointed to further hikes as a necessity given secularly high employment and stubborn service sector pressure. The immediate question is if recent data prints will open space for the Fed to pause and take stock of the economy. Members of the FOMC are students of history, and the false summit of inflation during the Volcker era may motivate them to underweight recent data and persist in additional hikes. We believe a further 25bps seems likely at the July FOMC meeting, with further hikes on a as needed basis.
In sum, the most recent data in the U.S. imply that a soft landing is the modal outcome for the near term. Of course, the data may change drastically at any given time, and y/y inflation is likely to pick back up in the short term due to statistical quirks. We will be watching key underlying components of inflation in the months to come, as well as higher frequency measures of the labor market.
Astor Investment Management LLC is a registered investment adviser with the SEC. All information contained herein is for informational purposes only. This is not a solicitation to offer investment advice or services in any state where to do so would be unlawful. Analysis and research are provided for informational purposes only, not for trading or investing purposes. All opinions expressed are as of the date of publication and subject to change. They are not intended as investment recommendations. These materials contain general information and have not been tailored for any specific recipient. There is no assurance that Astor's investment programs will produce profitable returns or that any account will have similar results. You may lose money. Past results are no guarantee of future results. Please refer to Astor's Form ADV Part 2A Brochure for additional information regarding fees, risks, and services.
The Astor Economic Index®: The Astor Economic Index® is a proprietary index created by Astor Investment Management LLC. It represents an aggregation of various economic data points. The Astor Economic Index® is designed to track the varying levels of growth within the U.S. economy by analyzing current trends against historical data. The Astor Economic Index® is not an investable product. The Astor Economic Index® should not be used as the sole determining factor for your investment decisions. The Index is based on retroactive data points and may be subject to hindsight bias. There is no guarantee the Index will produce the same results in the future. All conclusions are those of Astor and are subject to change. Astor Economic Index® is a registered trademark of Astor Investment Management LLC.
MAS-M-402601-2023-07-13