Another year is past us, and 2023 has begun with the promise of new macroeconomic trends and data to digest. The Astor Economic Index® ended the year up slightly from months prior but still at a level consistent with below-average growth. The key questions going into 2023 are the persistence of strong labor market trends, the path of inflation, and the Fed's reaction function. We discuss last month's data points below.
Non-farm payrolls were up 223,000 in December, above consensus but cooler than in months prior. Looking back over the past 12 months, hiring has shown a clear trend towards slowing, with payrolls printing as high as 714,000 at the beginning of the year but averaging around 250,000 in the second half. The U.S. unemployment rate dropped further to 3.5%, a five-decade low. Nonetheless, December's report offered some relief for the Fed, which would like to see substantial progress toward loosening the labor market and those wage growth. Average hourly earnings cooled to 0.3% m/m, and the previous month was revised downwards, which is good for ameliorating fears of a wage/price spiral.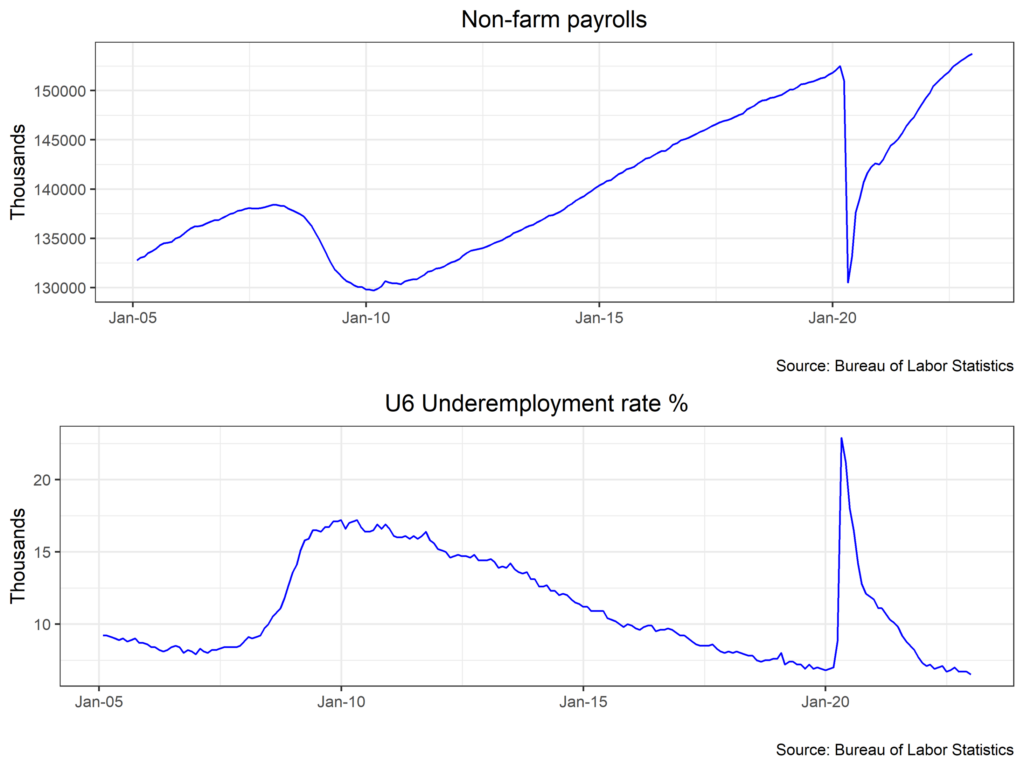 PMIs have continued their downward slide, with ISM PMI manufacturing dropping further to 48.4 from 49.0. Remarkably, the ISM services PMI tanked from 56.5 to 49.7, entering contraction territory and suggesting that rate hikes are beginning to impact the broader economy. Business activity and new orders led to the fall, and prices and delivery times improved.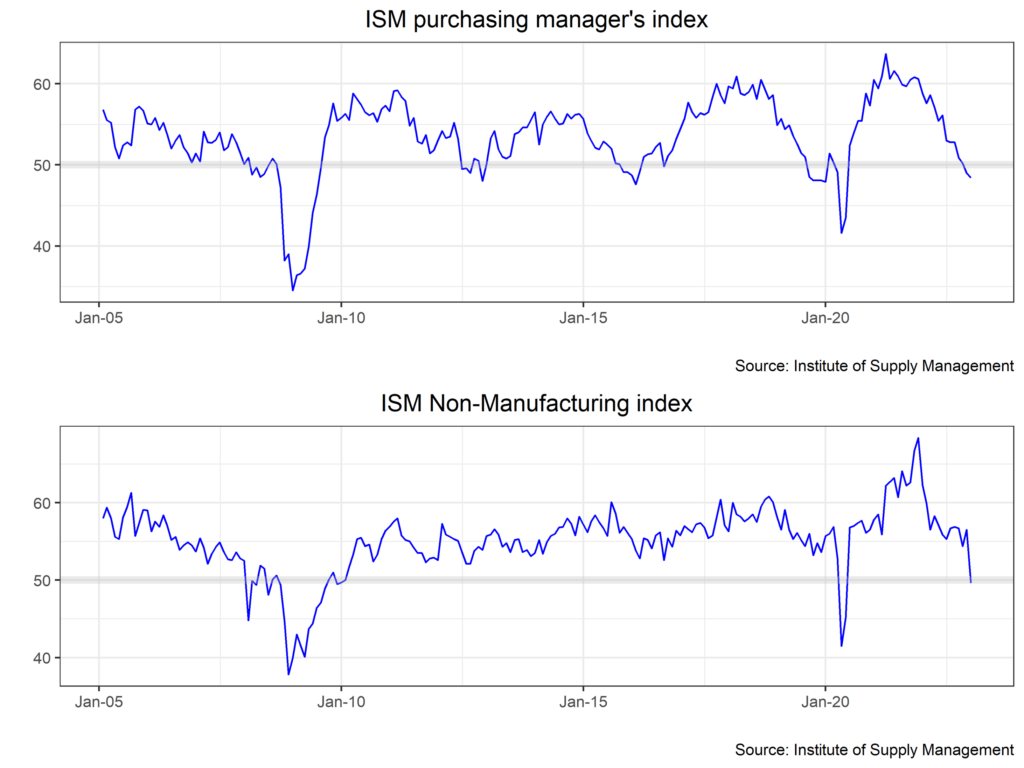 CPI was consistent with a cooling economy, with headline printing at 6.5% y/y (vs 7.1% in November), or – 0.1% m/m. Core CPI was also down at 5.7%, or 0.3% m/m. The story with headline CPI is obvious to anyone who owns a car, with gasoline prices, used cars, and new car prices falling. Core services continue to be affected by rents with shelter up 0.8%. This is despite higher frequency measures showing falling rents through year-end, which will probably be reflected in official numbers in a few months.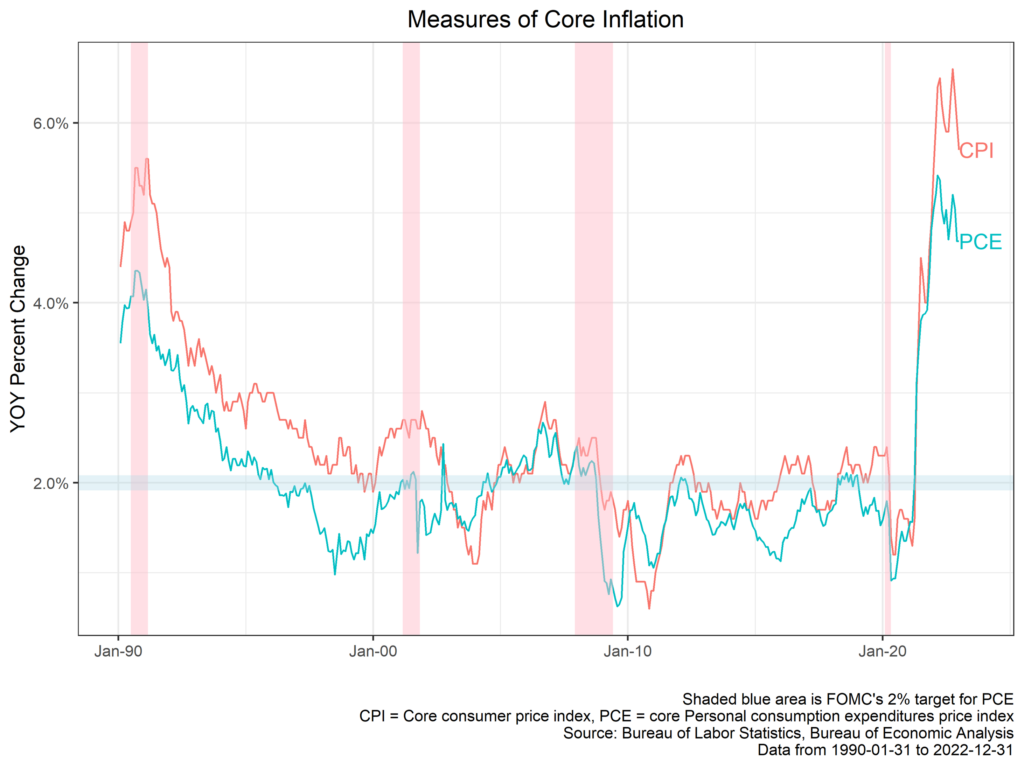 In sum, the data suggest an economy that is cooling to the Fed's liking. The Fed will be watching core services excluding shelter (which Powell has singled out as an important series) closely to better understand underlying inflation dynamics, which printed at 0.25% m/m in December. Although the pace of inflation proves to the Fed that 25bps is appropriate for the next few meetings, the market has probably got ahead of itself in pricing in steep cuts in the second half of 2023. The Fed would like to see durable improvement in price pressures before cutting or barring that, considerable weakness in the labor market, or economy writ large.
Astor Investment Management LLC is a registered investment adviser with the SEC. All information contained herein is for informational purposes only. This is not a solicitation to offer investment advice or services in any state where to do so would be unlawful. Analysis and research are provided for informational purposes only, not for trading or investing purposes. All opinions expressed are as of the date of publication and are subject to change. They are not intended as investment recommendations. These materials contain general information and have not been tailored for any specific recipient. There is no assurance that Astor's investment programs will produce profitable returns or that any account will have similar results. You may lose money. Past results are no guarantee of future results. Please refer to Astor's Form ADV Part 2A Brochure for additional information regarding fees, risks, and services.
The Astor Economic Index® (AEI): The AEI is a proprietary index created by Astor Investment Management LLC. It represents an aggregation of various economic data points. The AEI is designed to track the varying levels of growth within the U.S. economy by analyzing current trends against historical data. The AEI is not an investable product and it should not be used as the sole determining factor for your investment decisions. The Index is based on retroactive data points and may be subject to hindsight bias. There is no guarantee the Index will produce the same results in the future. All conclusions are those of Astor and are subject to change. Astor Economic Index® is a registered trademark of Astor Investment Management LLC.
MAS-M-337857-2023-01-17