How to Talk to Your Clients About …. Dynamic Asset Allocation
For many investors, the phrase "asset allocation" brings to mind the traditional 60/40 split between stocks and bonds. In today's low-return market environment, however, the standard 60/40 asset allocation may not suffice.  At Astor, we believe the solution for investors is to include dynamic asset allocation in a portion of their holdings.
Here's how we think about dynamic asset allocation:
The S&P 500 has returned approximately 9.5% annually since 1990, but with more than 15% standard deviation and two extraordinary, 40%-plus drawdowns. It is very hard for investors to "stay put" with a 60/40 portfolio through the market gyrations, including during potentially wealth-destroying events such as recessions.
In today's fixed income environment, investors may have to take on more risk to achieve their return targets. (Source: Wall Street Journal/Callan Associates)
Dynamic asset allocation allows investors to pursue their investment goals while potentially mitigating risk and controlling losses. At Astor, our dynamic asset allocation is predicated on the current trend of the U.S. economy—increasing exposure to equities during expansions and decreasing exposure to equities or even taking an inverse position during contractions.
For more information about dynamic asset allocation and Astor's approach using the Astor Economic Index®, please watch this video and read our blog on  how one number does not make a trend
CHART of the WEEK: Do Earnings Reports Confirm a Stronger Economy?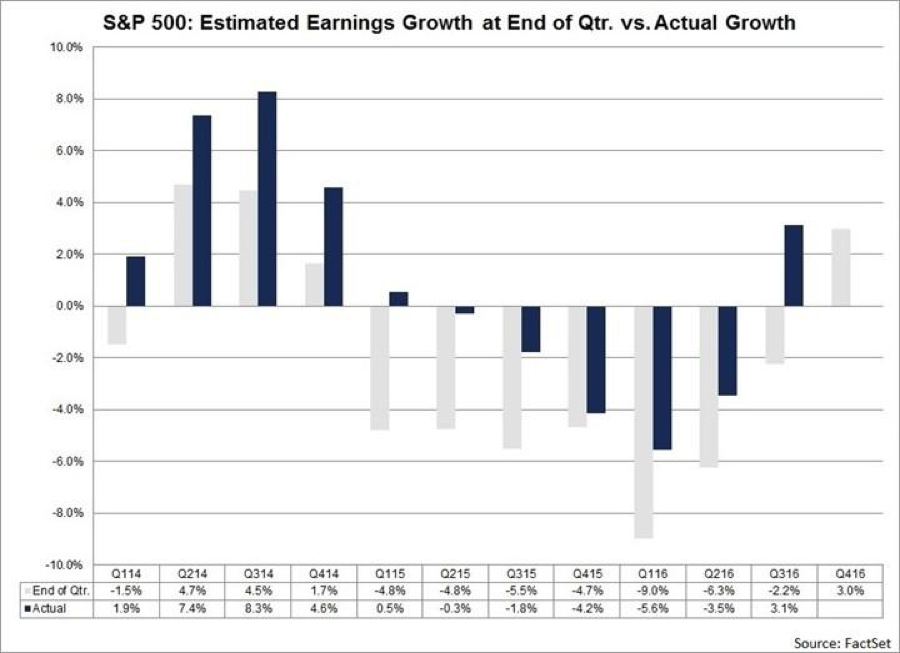 Past Performance is no guarantee of future performance.
ON OUR RADAR this week
The big focus during the week is on earnings
US economic data (US CPI for December Wednesday morning 1/18), the European Central Bank's (ECB) interest rate decision on 1/19(this should be a non-event), China economic data out Thurs night/Friday morning, and two Yellen speeches (she will take part in a discussion Wednesday 1/18 at 3pmET and speaks at Stanford Thursday 1/19 at 8pmET).
Presidential inauguration is Friday
Trump Unknowns – investors are waiting for clarity on the following questions:
Taxes
Infrastructure spending
Healthcare
Deregulation
Drugs
Monetary policy
Trump Fed staffing
Foreign policy
Housing
M&A -what are Trump's views on some of the major deals awaiting gov't approval – T/TWX, MON/Bayer, DD/DOW, etc.?
Gallup suggests that Americans' confidence in the economy remains relatively high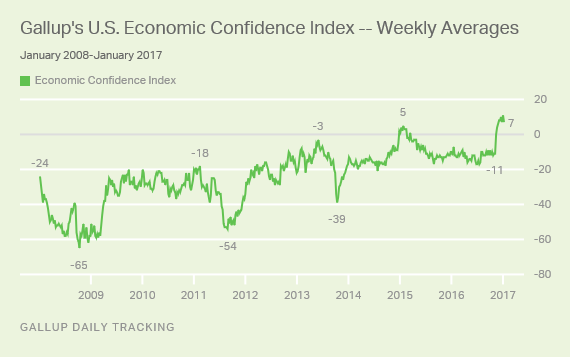 Our latest reading for the Astor Economic Index® ("AEI") improved over the month and currently shows the US Economy as growing somewhat above average.
Intra-Day Read: Ready to Rev Up in 2017:  Operations as a Vehicle for Investment Success
Weekend Read:  Tracking the Gig Economy
All information contained herein is for informational purposes only. This is not a solicitation to offer investment advice or services in any state where to do so would be unlawful. Analysis and research are provided for informational purposes only, not for trading or investing purposes. All opinions expressed are as of the date of publication and subject to change. Astor and its affiliates are not liable for the accuracy, usefulness or availability of any such information or liable for any trading or investing based on such information.
The Astor Economic Index® is a proprietary index created by Astor Investment Management LLC. It represents an aggregation of various economic data points: including output and employment indicators. The Astor Economic Index® is designed to track the varying levels of growth within the U.S. economy by analyzing current trends against historical data. The Astor Economic Index® is not an investable product. When investing, there are multiple factors to consider. The Astor Economic Index® should not be used as the sole determining factor for your investment decisions. The Index is based on retroactive data points and may be subject to hindsight bias. There is no guarantee the Index will produce the same results in the future. The Astor Economic Index® is a tool created and used by Astor. All conclusions are those of Astor and are subject to change.
2017-12