The Astor Economic Index ended the month of August essentially unchanged from the last several months, a level consistent with strong economic growth domestically, despite headwinds from the Delta variant. We discuss labor market developments below and delve into some of the dynamics surrounding the current inflation debate.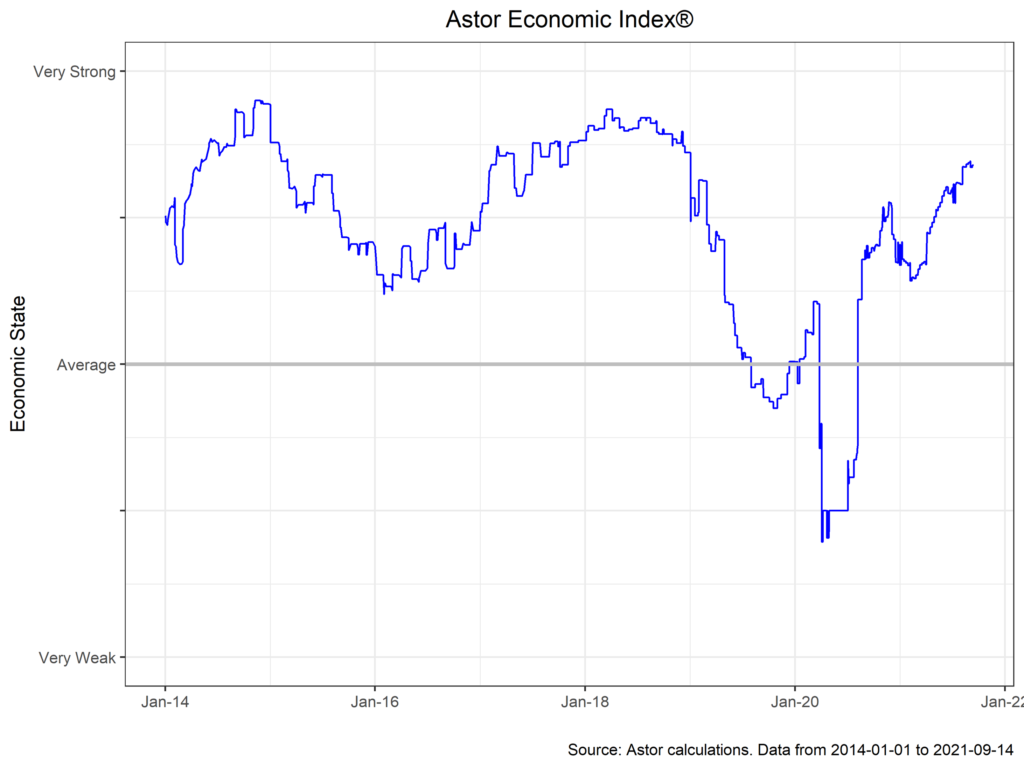 Non-farm payrolls disappointed strongly to the downside last month, with gains held to 235,000. The leisure and hospitality sector has led the labor market over the course of the U.S. economic reopening but is now showing signs of faltering in the face of renewed Delta spread. As a result, the sector added no new jobs last month. Given outsized wage growth, the slowing across U.S. employment was probably a result of labor supply rather than demand for labor.
Inflation, meanwhile, continued along its path towards solipsism, with plenty of data available to both the transitory and persistent inflation camps. The former group is bolstered by the August core CPI (excluding food and energy) print, which came in cooler at 4% y/y (0.1% m/m) and continued the deceleration in consumer prices that began in June. Many of the so-called reopening categories like used cars and airfares have begun outright declines, suggesting that the height of reopening specific price pressures is behind us.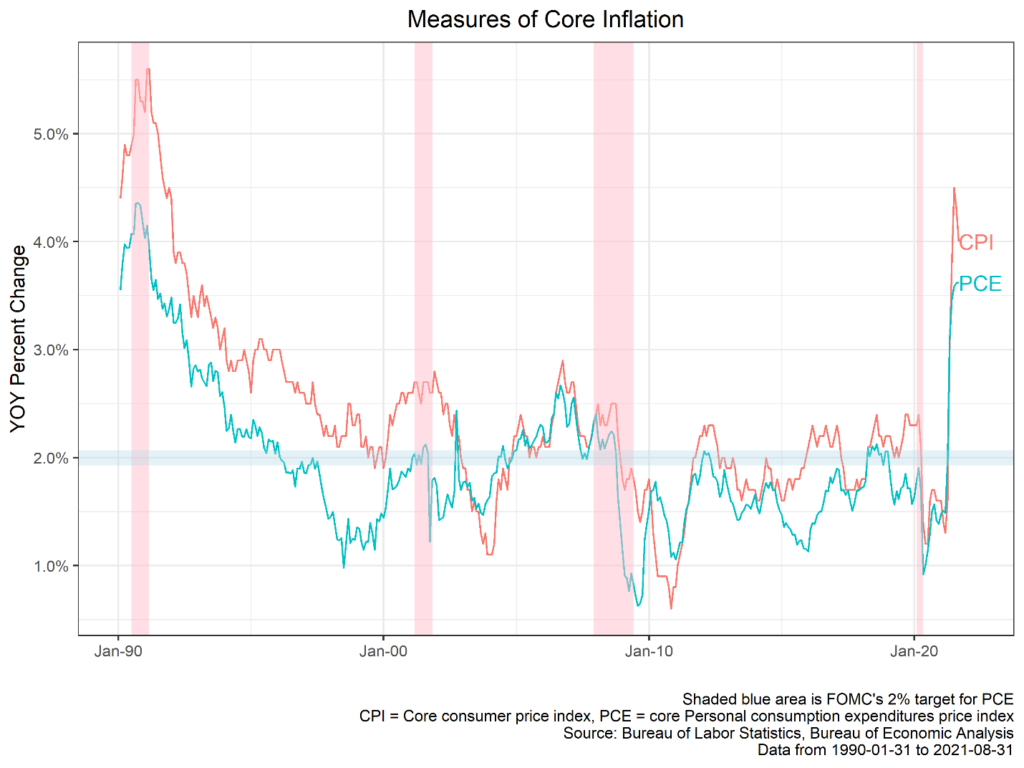 Moreover, market-based measures of inflation expectations remained solidly anchored, with TIPS and 5yr5yr inflation swaps in the 2.3% range. In sum, the market appears to take the Federal Reserve at its word that inflation is likely to be transitory, and that the Fed will react appropriately if it is not.
The persistent (or at least, higher for longer) clique points to several worrying data points. First, consumers expect inflation to be quite a bit higher than market participants do, with the NY Fed Survey of Consumer Expectations respondents' three year ahead median inflation rate estimate an eye-watering 4%. Price pressures, meanwhile, have broadened outside of narrow categories. The Cleveland Fed's measure of median CPI is at its highest level in 15 years.
Ultimately, the key question for inflation is the extent to which abating pressures in used cars and similar are replaced by more persistent, pernicious pressures in stickier categories like owner-equivalent rent. Growth in real wages will also be a crucial watchpoint in indicating if inflation is a passing trend or more durable. As always, we at Astor will be watching these and other data points closely.
AIM-9/15/21-OP452