While I am known for being the author of Inside Greenspan's Briefcase: Investment Strategies for Profiting from Key Reports & Data (McGraw-Hill, 2002), my career began under the tutelage of another Fed Chairman: Paul Volcker, who passed away on Sunday, December 8, 2019 at the age of 92.
In 1984-1985, as a project analyst for the Federal Reserve fresh out of the University of Michigan,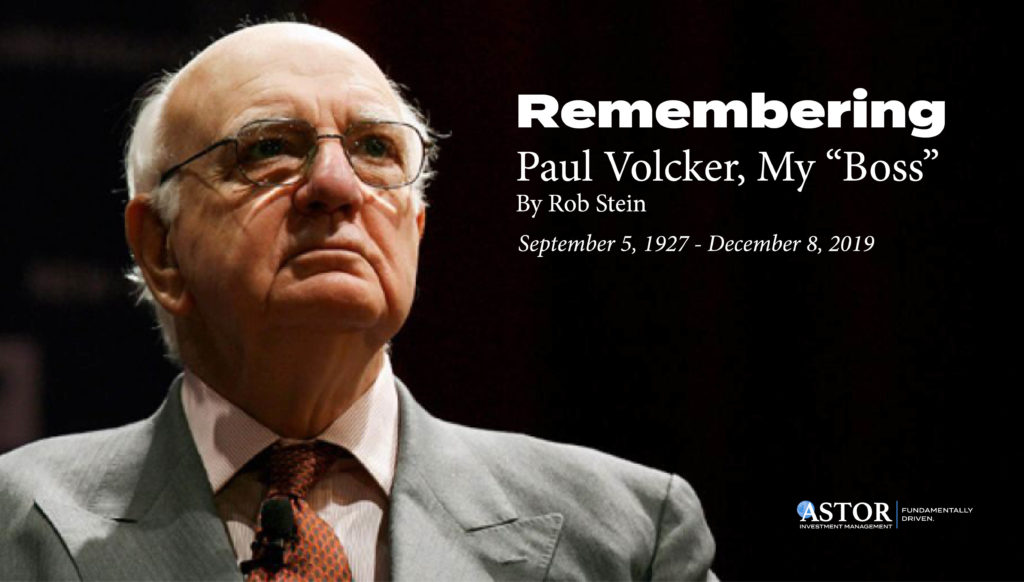 I had the privilege of working closely with Chairman Volcker. My immediate boss was Chicago Fed President Silas Keehn, who during his long career served under Chairman Volcker and another Fed icon—Alan Greenspan.
Spending time on the money operations for the Fed's currency desk in New York, I had frequent contact with Chairman Volcker. He was true to his image: larger than life—literally. He stood six-foot-seven and always seemed to be smoking a cigar. Chairman Volcker had been chosen to lead the Fed by President Jimmy Carter and also served under President Ronald Reagan, for a tenure from 1979 to 1987. President Obama later appointed him to lead the Economic Recovery Advisory Board.
Despite his global influence that extended well beyond the financial world, Chairman Volcker was also highly approachable. He met with the teams weekly, and he would offer one-on-one time as a reward for doing well.   Lucky for me, my job of aggregating money supply numbers gave me unusual access to him since he wanted to be updated frequently on money supply—and for good reason.
The early 1980s was a time of runaway, double-digit inflation. Chairman Volcker took a stronghold to protect the economy, with a willingness to instigate a double-dip recession as the necessary bitter medicine.
Beyond his fiscal policy, Chairman Volcker's leadership style also influenced me. I saw how he treated others with respect for the value they brought. What stood out in particular was his willingness to acknowledge people's insights and contributions in front of others. Today, as a CEO, I try to emulate that leadership behavior of reinforcing the value of others.
My time at the Federal Reserve was short, but extremely impactful. As my career progression took me to Wall Street, I brought with me a deep respect for the importance of economic data and its impact on investment decisions—a conversation for another day.
For now, I'd like to join with the many people across the financial community and beyond in paying tribute to Chairman Volcker. As a young professional just starting out, I could not have picked a better "boss" to influence and guide me.
2019-406
Astor Investment Management LLC is registered with the Securities and Exchange Commission as an investment adviser.  All information contained herein is for informational purposes only not for trading or investing purposes.