Real GDP for Q3 2016 came in at a better-than-expected rate of 2.9%. This "advance estimate," released by the Bureau of Economic Analysis, was above consensus/economists' estimates of around 2.5-2.6%. In Q2, real GDP increased by an annualized rate of 1.4%.
As Astor previously observed, a Q3 GDP report that at least met expectations, along with follow-through in the ISM Manufacturing and Non-Manufacturing gauges, could be a good springboard for continued growth in Q4. This outlook also adds to the widely-held expectation, as previously noted, that the Federal Reserve will raise interest rates by the end of the year.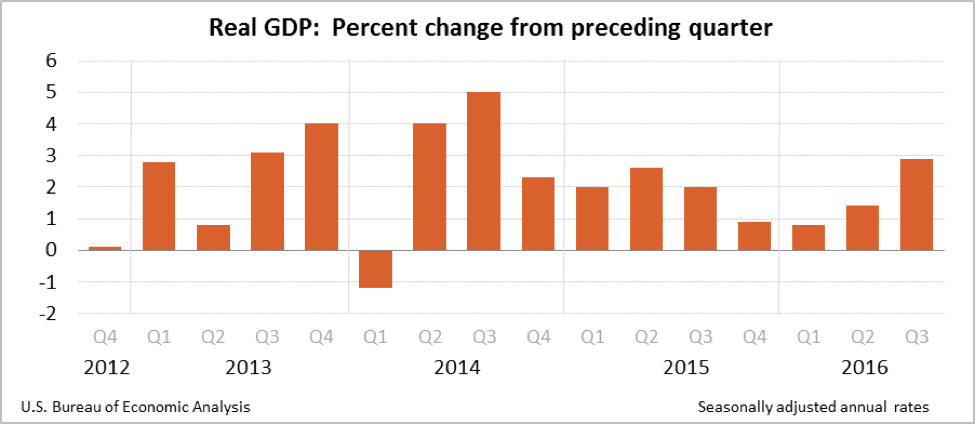 Highlights from the report include:
Personal consumption expenditures rose 2.1% in Q3 vs 4.3% in Q2
Exports rose 10% in Q3 vs 1.8% in Q2
Other positive contributions were from private inventory investment, federal government spending, and nonresidential fixed investment. These increases were partly offset by negative contributions from residential fixed investment and state and local government spending. Imports, which are a subtraction in the calculation of GDP, increased.
This advance estimate for Q3 GDP is subject to two more revisions. In Astor's view, these revisions make the backward-looking GDP "headline" number less useful for making investment decisions than economic analysis using output indicators for the current quarter, as well as near-term trends in the economy.
The Q3 second estimate report is scheduled to be released on Nov. 29.
All information contained herein is for informational purposes only. This is not a solicitation to offer investment advice or services in any state where to do so would be unlawful. Analysis and research are provided for informational purposes only, not for trading or investing purposes. All opinions expressed are as of the date of publication and subject to change. Astor and its affiliates are not liable for the accuracy, usefulness or availability of any such information or liable for any trading or investing based on such information.
309161-524