The Astor Economic Index® ("AEI") improved again in October, ending the month higher once again and at a level generally consistent with a strong economic state. Recall that the AEI is driven by changes in economic output, rather than the outright level, which we believe is more germane to the near-term trajectory for risk assets. We delve into some of the underlying contributors below and offer some thoughts beyond the headline numbers.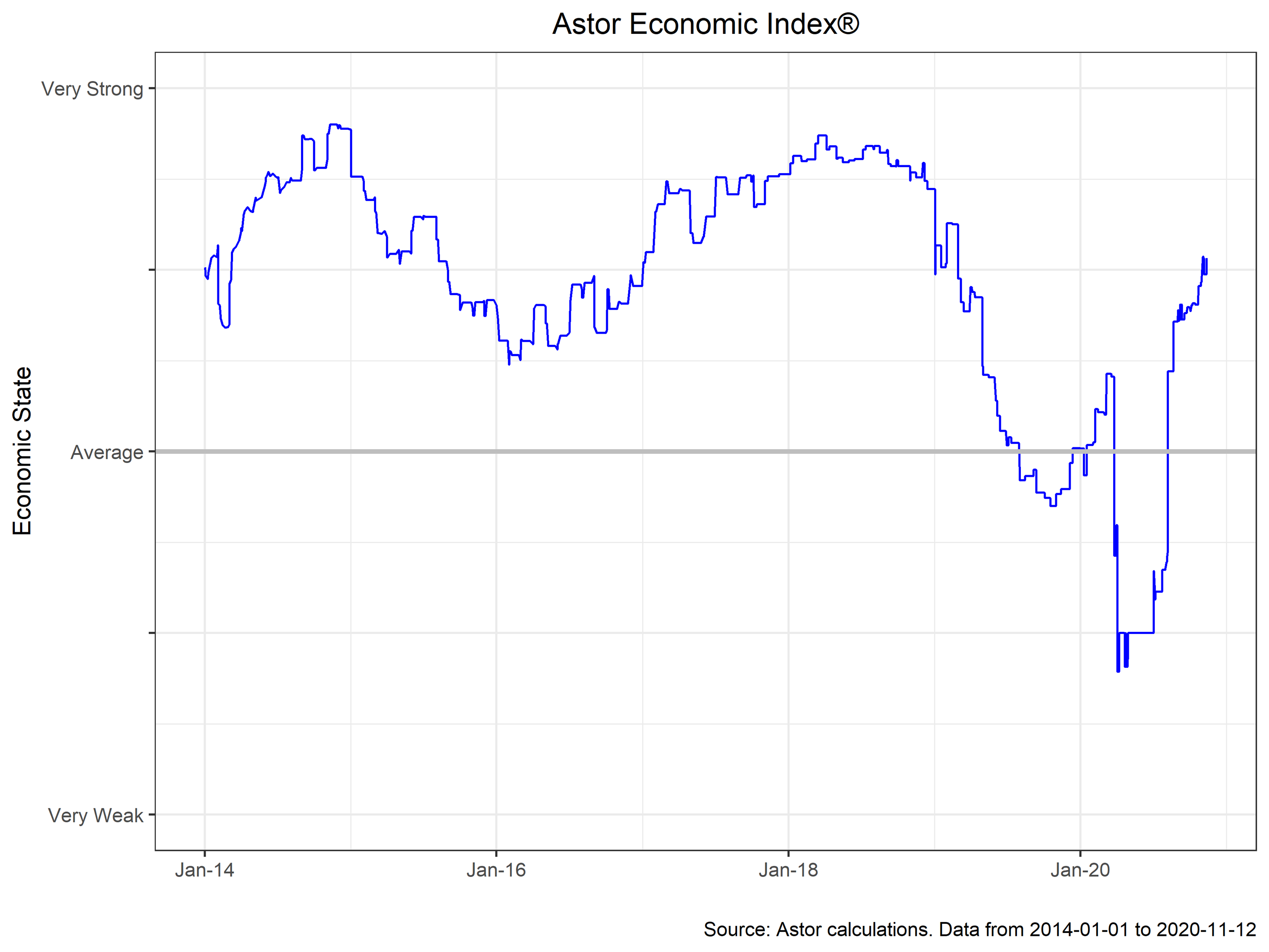 The topic of conversation in many economic circles earlier this year revolved around the cerebral mapping of the U.S. economic trajectory to kindergarten orthography. The AEI resembles a letter "U", so perhaps we have our answer. Much of that shape is due to very strong purchasing manager indices, with ISM manufacturing and non-manufacturing in expansion territory for five consecutive months. Manufacturing had a particularly strong month, printing at 59.3, a two-year high and was led by firmer overseas demand. Services, however, was at its weakest since May, and concerningly indicated a net cut in employment, suggesting weaker overall growth for the fourth quarter.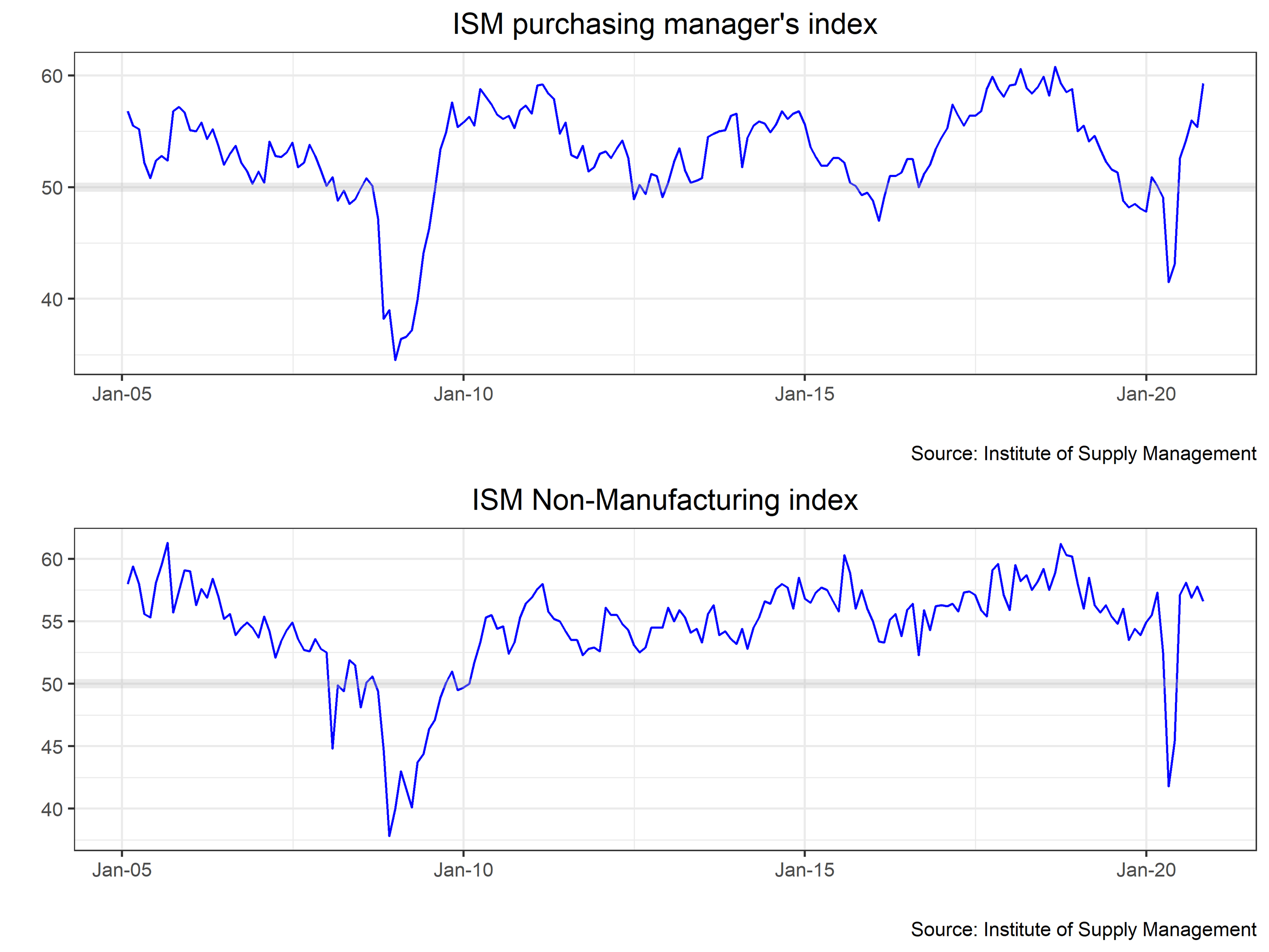 The labor market picture more broadly continued to improve, although warning signs are increasing that further gains back towards pre-pandemic levels will be hard to come by. The unemployment rate fell from 7.9% to 6.9% this month, but as the YoY change in non-farm payrolls chart shows below, we have some distance to travel before regaining our previously stellar employment situation. In particular, the number of long-term unemployed moved sharply up to 3.6m people (from 1.2m), suggesting permanent damage from closures.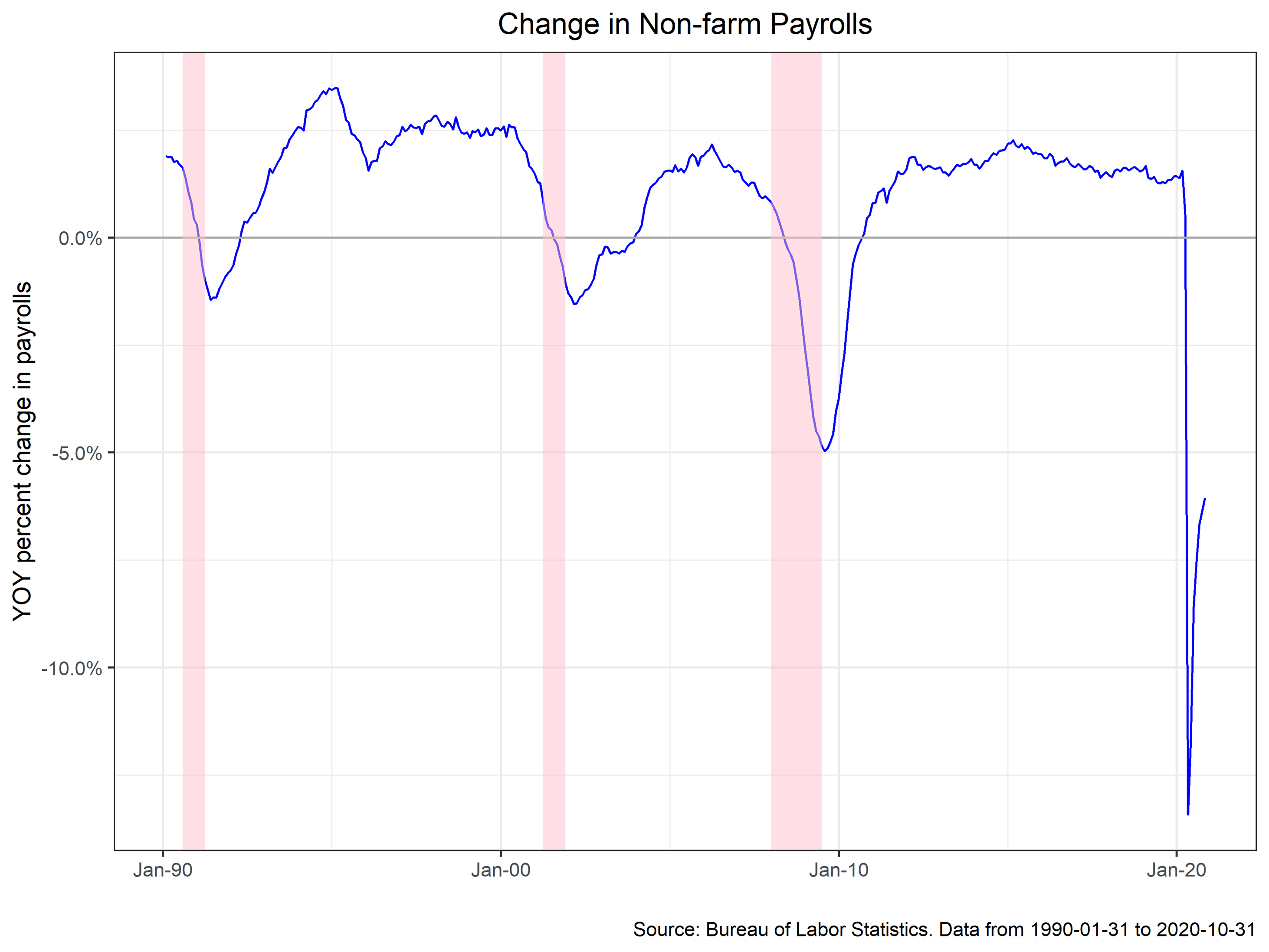 Our conclusion is much the same as in months prior: as the AEI highlights, the U.S. economy is showcasing impressive fortitude in its pliability and alacrity in extraordinary times. However, continued gains are dependent on the country's ability to avoid further outright closures and additional fiscal support, both of which look increasingly unlikely.
Astor Investment Management LLC is a registered investment adviser with the SEC. All information contained herein is for informational purposes only. This is not a solicitation to offer investment advice or services in any state where to do so would be unlawful. Analysis and research are provided for informational purposes only, not for trading or investing purposes. All opinions expressed are as of the date of publication and subject to change. They are not intended as investment recommendations. These materials contain general information and have not been tailored for any specific recipient. There is no assurance that Astor's investment programs will produce profitable returns or that any account will have similar results. You may lose money. Past results are no guarantee of future results. Please refer to Astor's Form ADV Part 2A Brochure for additional information regarding fees, risks, and services.
The Astor Economic Index® is a proprietary index created by Astor Investment Management LLC. It represents an aggregation of various economic data points: including output and employment indicators. The Astor Economic Index® is designed to track the varying levels of growth within the U.S. economy by analyzing current trends against historical data. The Astor Economic Index® is not an investable product. When investing, there are multiple factors to consider. The Astor Economic Index® should not be used as the sole determining factor for your investment decisions. The Index is based on retroactive data points and may be subject to hindsight bias. There is no guarantee the Index will produce the same results in the future. The Astor Economic Index® is a tool created and used by Astor. All conclusions are those of Astor and are subject to change.
AIM-11/17/20-OP226