Our proprietary Astor Economic Index® is still showing solid growth in the US economy. The index is currently near the top of the fairly narrow range it has been in the last twelve-month range.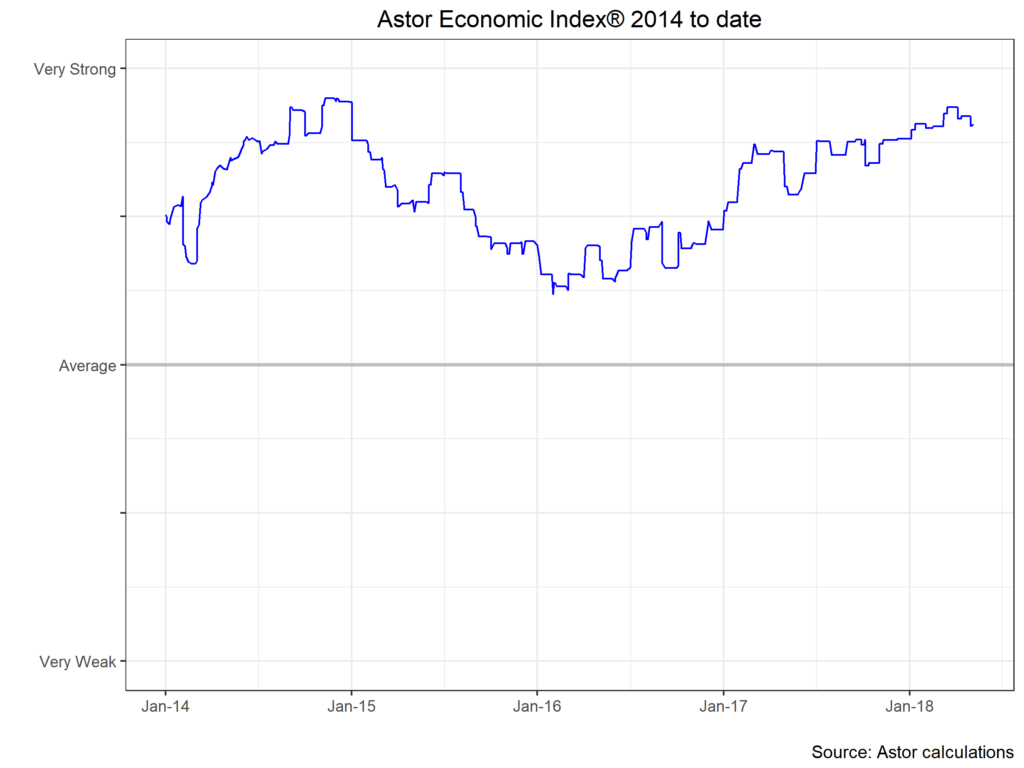 The labor market continues to add more jobs than is required to keep up with the natural growth of population and the unemployment rate continues to fall.  Normally, we would call this a tightening labor market but today there is no obvious wage pressure despite a few false alarms. The chart below shows the ratio of prime-age employment to population, that is what proportion of 25-54 year-olds hold jobs.  This measure has been improving recently, evidence of workers being drawn back into the workforce, though it is not quite back to its 1990-2007 average.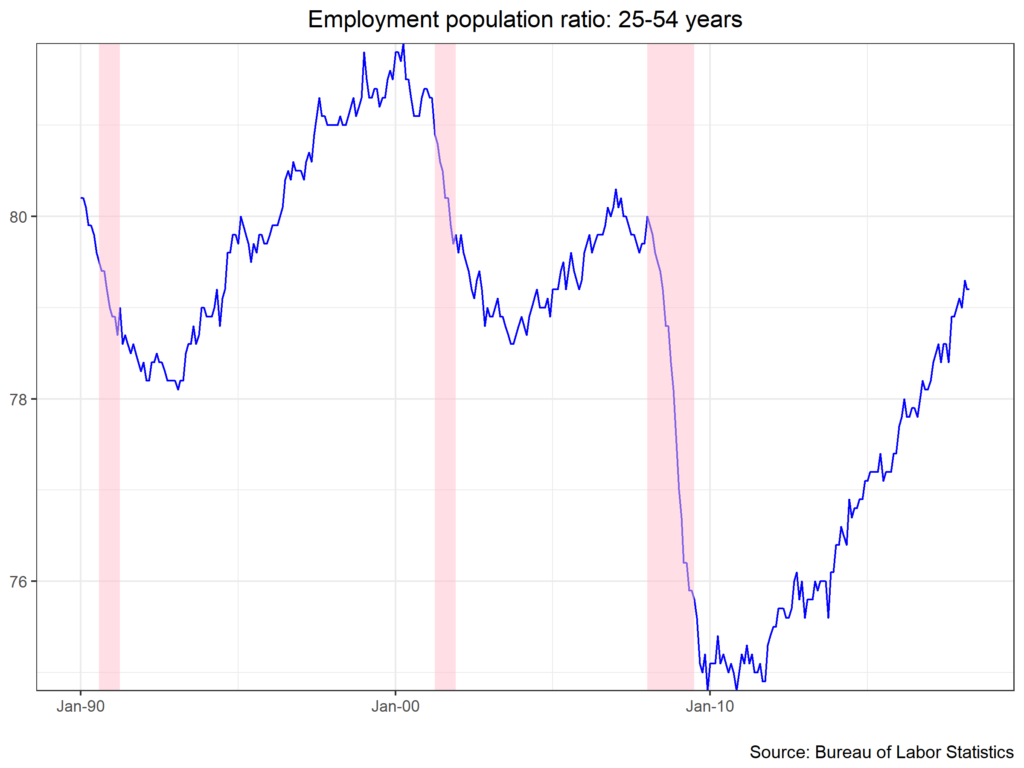 The international environment is mainly positive today, with a few short-term worries.  The chart below shows the GDP-weighted average of international Markit PMIs.  This measure while still strong is markedly off its recent highs, thanks to a weakening of economic activity in Europe outside of Germany.  The first worry is the possibility of a marked deterioration in the international trade environment as a result of US trade demands. The second worry is the oil price, which has risen well off one recent equilibrium of about fifty dollars a barrel.  Should this rise continue toward its other recent equilibrium of about a hundred dollars a barrel, it could impact both the level and distribution of global growth.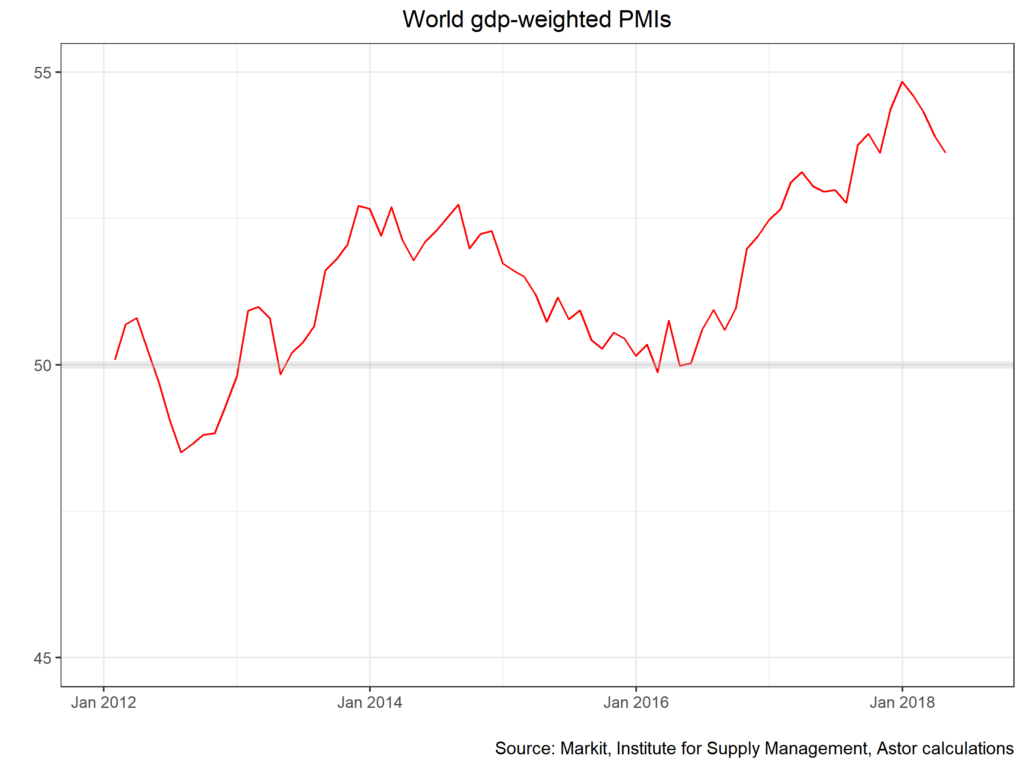 The Fed continues to signal that it will raise rates at a stately pace. Inflation is edging closer to the central bank's long-term target.  Note in the chart below, however, that the Fed had to tolerate a long period of sub-target inflation and the Fed has been emphasizing in recent statements that its target is symmetric.  I don't think anyone believes the Fed would tolerate five years of 3% PCE inflation, but it may not have the hair-trigger some fear.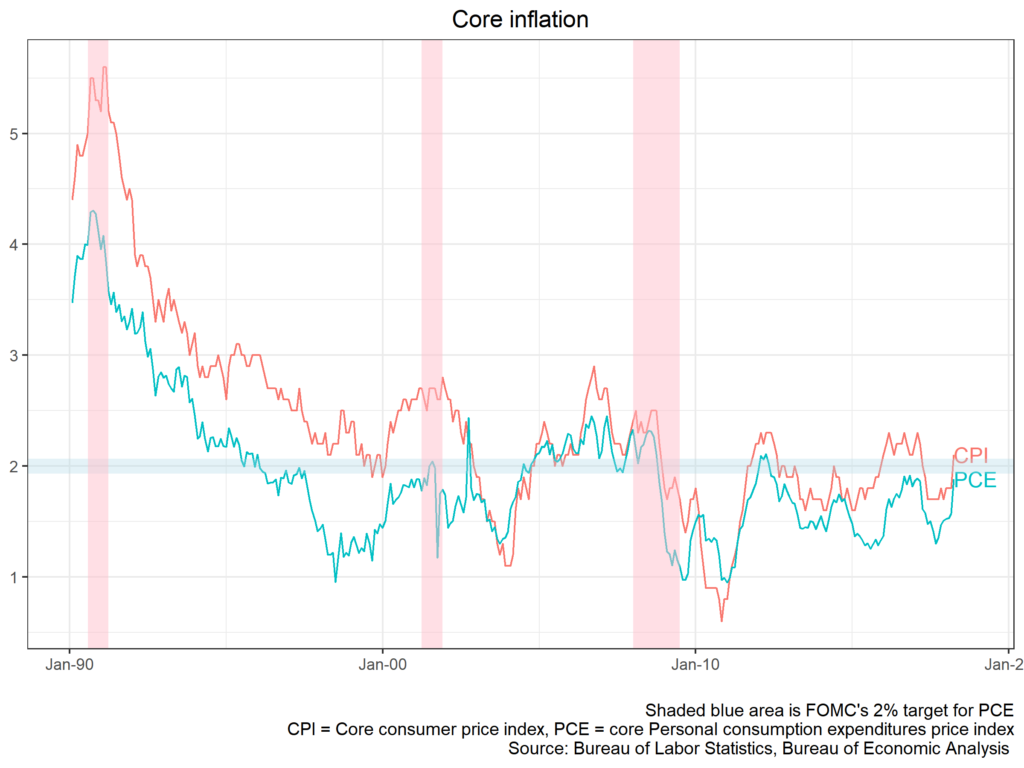 As always, we at Astor will be monitoring the economy closely to inform our investment decisions. To see more of our weekly collection of economic charts, visit www.astorim.com/charts.
All information contained herein is for informational purposes only. This is not a solicitation to offer investment advice or services in any state where to do so would be unlawful. Analysis and research are provided for informational purposes only, not for trading or investing purposes. All opinions expressed are as of the date of publication and subject to change. Astor and its affiliates are not liable for the accuracy, usefulness or availability of any such information or liable for any trading or investing based on such information.
The Astor Economic Index® is a proprietary index created by Astor Investment Management LLC. It represents an aggregation of various economic data points: including output and employment indicators. The Astor Economic Index® is designed to track the varying levels of growth within the U.S. economy by analyzing current trends against historical data. The Astor Economic Index® is not an investable product. When investing, there are multiple factors to consider. The Astor Economic Index® should not be used as the sole determining factor for your investment decisions. The Index is based on retroactive data points and may be subject to hindsight bias. There is no guarantee the Index will produce the same results in the future. The Astor Economic Index® is a tool created and used by Astor. All conclusions are those of Astor and are subject to change.
2018-94.