The Astor Economic Index improved to slightly above average economic growth in January, buoyed by consistent jobs growth and a return to expansion in the manufacturing sector.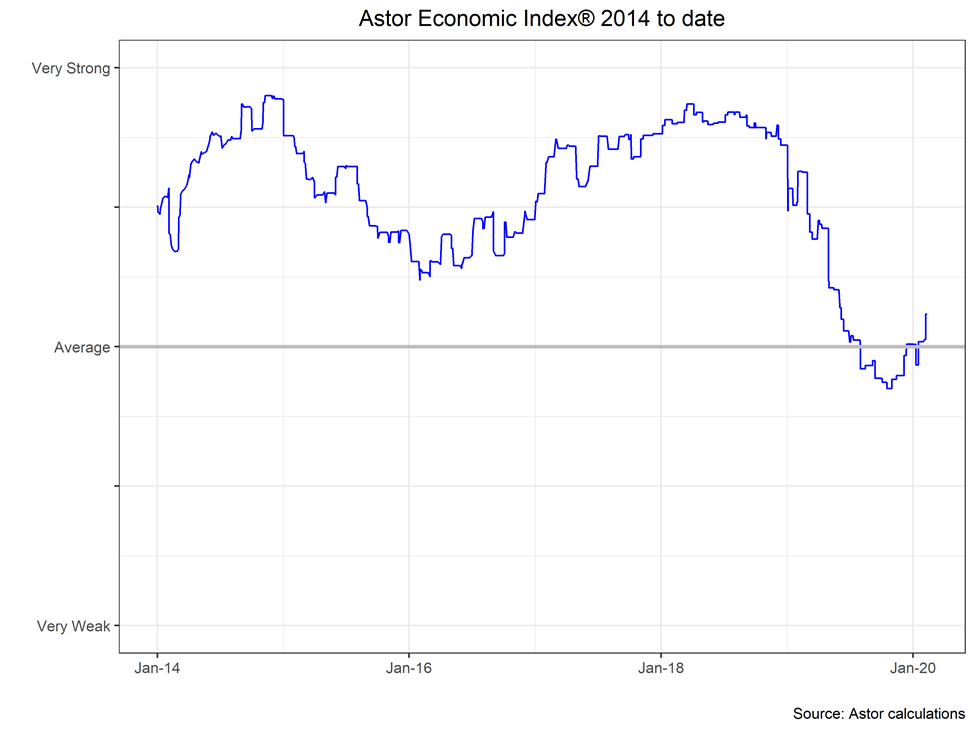 U.S. payrolls increased by a solid 225,000 in January, supporting the notion of a durable expansion and labor market. The unemployment rate was essentially unchanged at 3.6%, and labor force participation reached a five-year high.  In aggregate, the employment picture provides additional backing to the Federal Reserve's policy pause.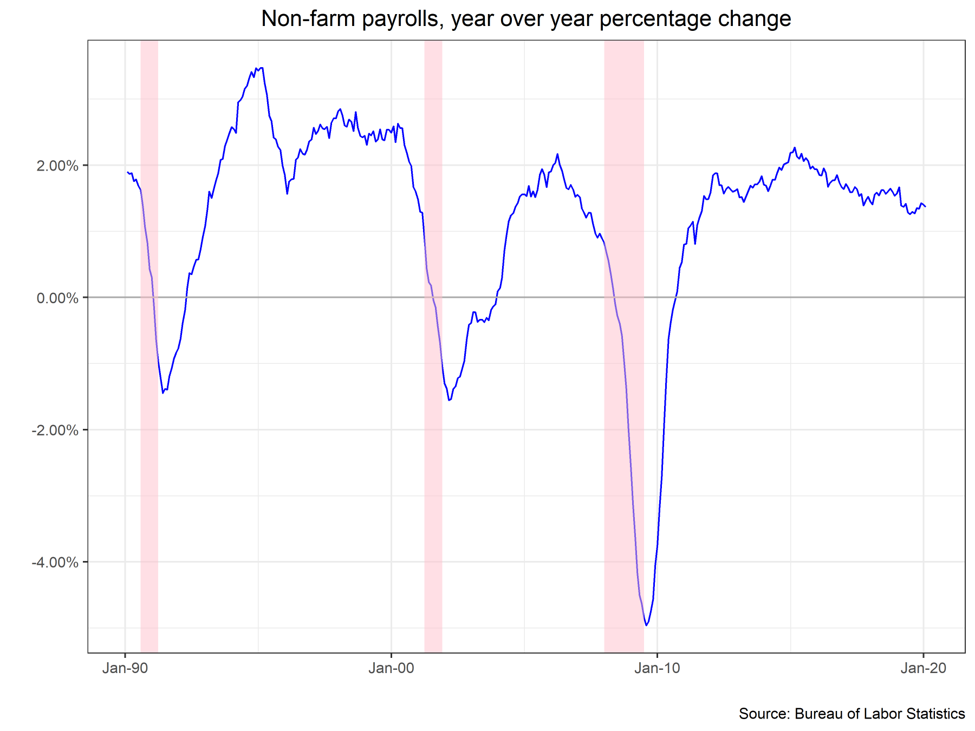 The U.S. manufacturing sector was perhaps the real casualty of US/China trade war, with data pointing to contraction in every month since August of last year. ISM Manufacturing PMIs returned to expansion last month following the phase one trade deal, with January's number of 50.9 indicative of improved business confidence. The gain was led by the export orders, new orders and production subcomponents.   Importantly, trade-related optimism does not seem to be limited to the US or China, with world PMIs turning positive on a GDP weighted basis.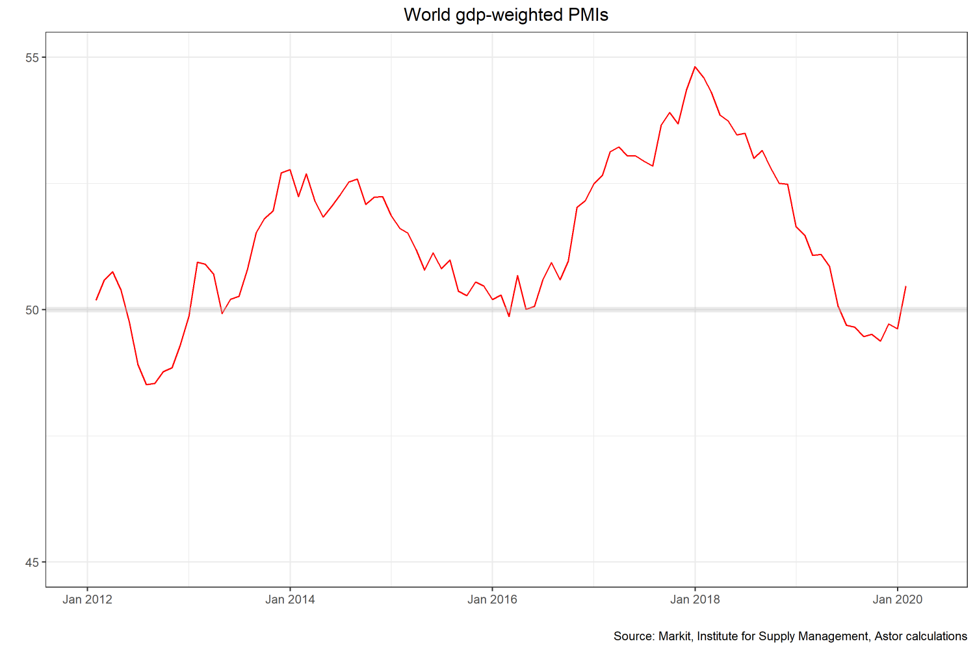 Of course, those of you following the news of late will be unsurprised to learn that these gains are likely to prove fleeting in the wake of the Covid-19 (the coronavirus), which has disrupted global supply chains.  The chart below compares SARS and Covid-19 from onset, with the important caveat that I am not an epidemiologist. The data are somewhat questionable and the incidence and virulence of the virus are still open questions, but roughly suggest we should expect an economic impact several times greater than the 2003 SARS outbreak, which occurred when China's contribution to world output was 4% rather than 15%.
Back to more solid footing, it's clear that the ongoing quarantine in Wuhan and Hubei Provence will have real impacts on the Chinese economy and those reliant on it.  Anecdotes of scuttled factories abound, with Hyundai, Foxconn and Boeing idling plants that use inputs from the region.  Estimates range from 0.5% – 3% loss of GDP growth in China, but much is dependent on the path of the virus and the world's ability to respond. We expect the impact on commodities and emerging markets to be more substantial than the US economy.
Although we remain optimistic about the state of the U.S. economy, we will be watching developments in China and spillovers to the global supply chain very closely and will adjust portfolio risk accordingly.
The Astor Economic Index® is a proprietary index created by Astor Investment Management LLC. It represents an aggregation of various economic data points and is designed to track the varying levels of growth within the U.S. economy by analyzing current trends against historical data. It is not an investable product. The Astor Economic Index® should not be used as the sole determining factor for your investment decisions. The Index is based on retroactive data points and may be subject to hindsight bias. There is no guarantee the Index will produce the same results in the future. All conclusions are those of Astor and are subject to change. 
Astor Investment Management LLC is registered with the Securities and Exchange Commission as an investment adviser.  All information contained herein is for informational purposes only. This is not a solicitation to offer investment advice or services in any state where to do so would be unlawful. Analysis and research are provided for informational purposes only, not for trading or investing purposes. All opinions expressed are as of the date of publication and subject to change. Astor and its affiliates are not liable for the accuracy, usefulness or availability of any such information or liable for any trading or investing based on such information. These materials contain general information and have not been tailored for any specific recipient.  There is no assurance that Astor's investment programs will produce profitable returns.  These materials are not intended to cause Astor Investment Management LLC to become a fiduciary within the definition of Section 3(21)(A)(ii) of the Employee Retirement Income Security Act of 1974, as amended or Section 4975(e)(3)(B) of the Internal Revenue Code of 1986, as amended.
2020-48