The theme in economic pundit circles during the month of January was short-term stagnation, and the Astor Economic Index certainly agrees, remaining essentially unchanged from where in began the year and in growth territory.  As in prior months, the economy remains under substantial restrictions that are trending broadly towards easing, and we expect to see further improvement in underlying fundamentals as infection rates trend downwards. Vaccines delivered to the most vulnerable populations will probably allow policy makers to tolerate higher caseloads in the near-term and allow for reopenings quicker than previously would have been considered prudent.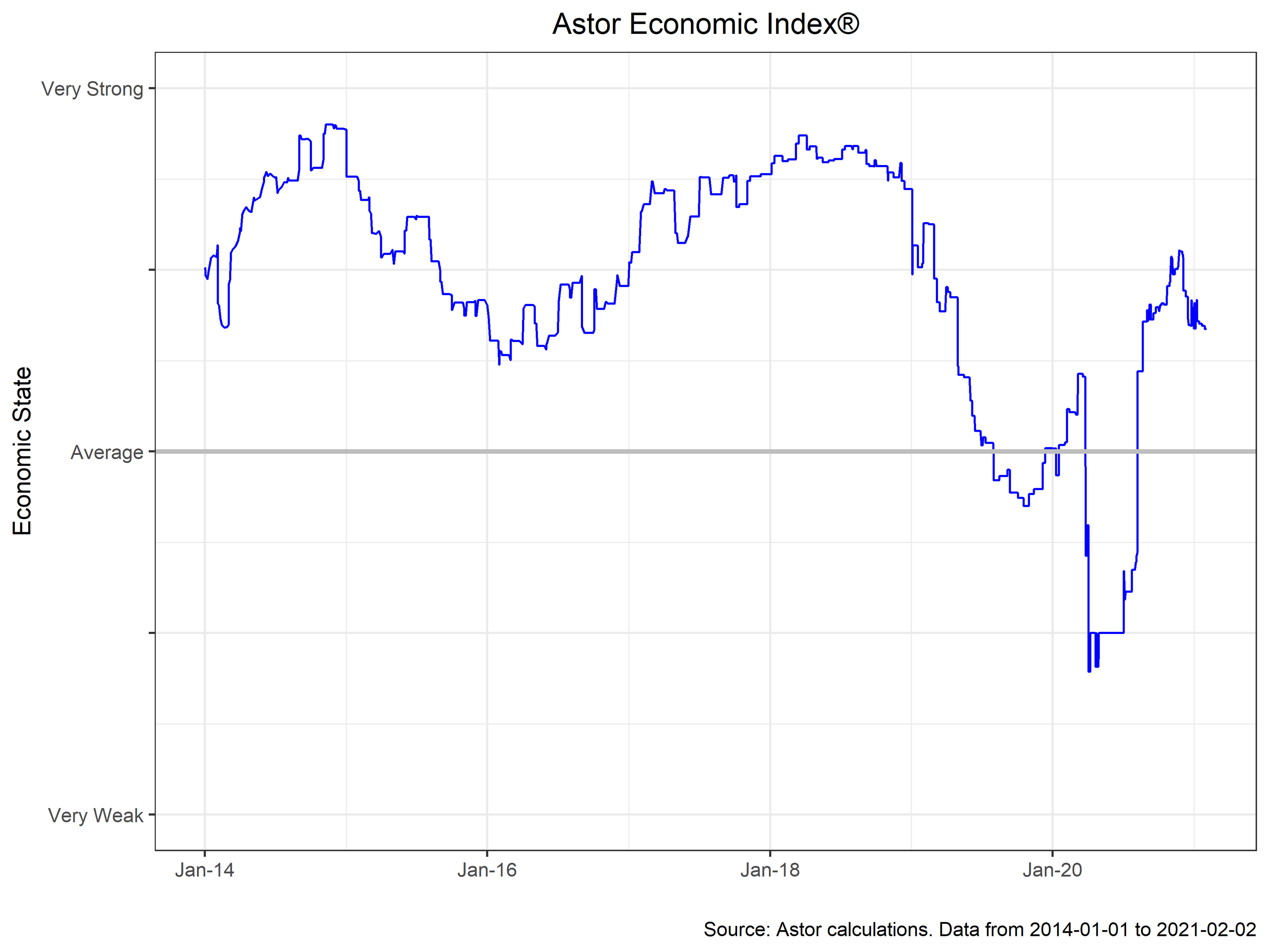 The data of the past month very much support the view of short-term stagnation with sunnier days ahead.    Non-farm payrolls improved by a meager 49,000, but given the circumstances, a positive number is a good indicator for the continued resilience of the American economy.  U-6 unemployment similarly ticked down to 11.1%, down from April highs of 22.9%.  Of course, U-6 was as low as 6.8% prior to the pandemic, which serves as a sobering reminder that despite the end of the crisis being in sight, we still have a way before reaching an economy at potential output.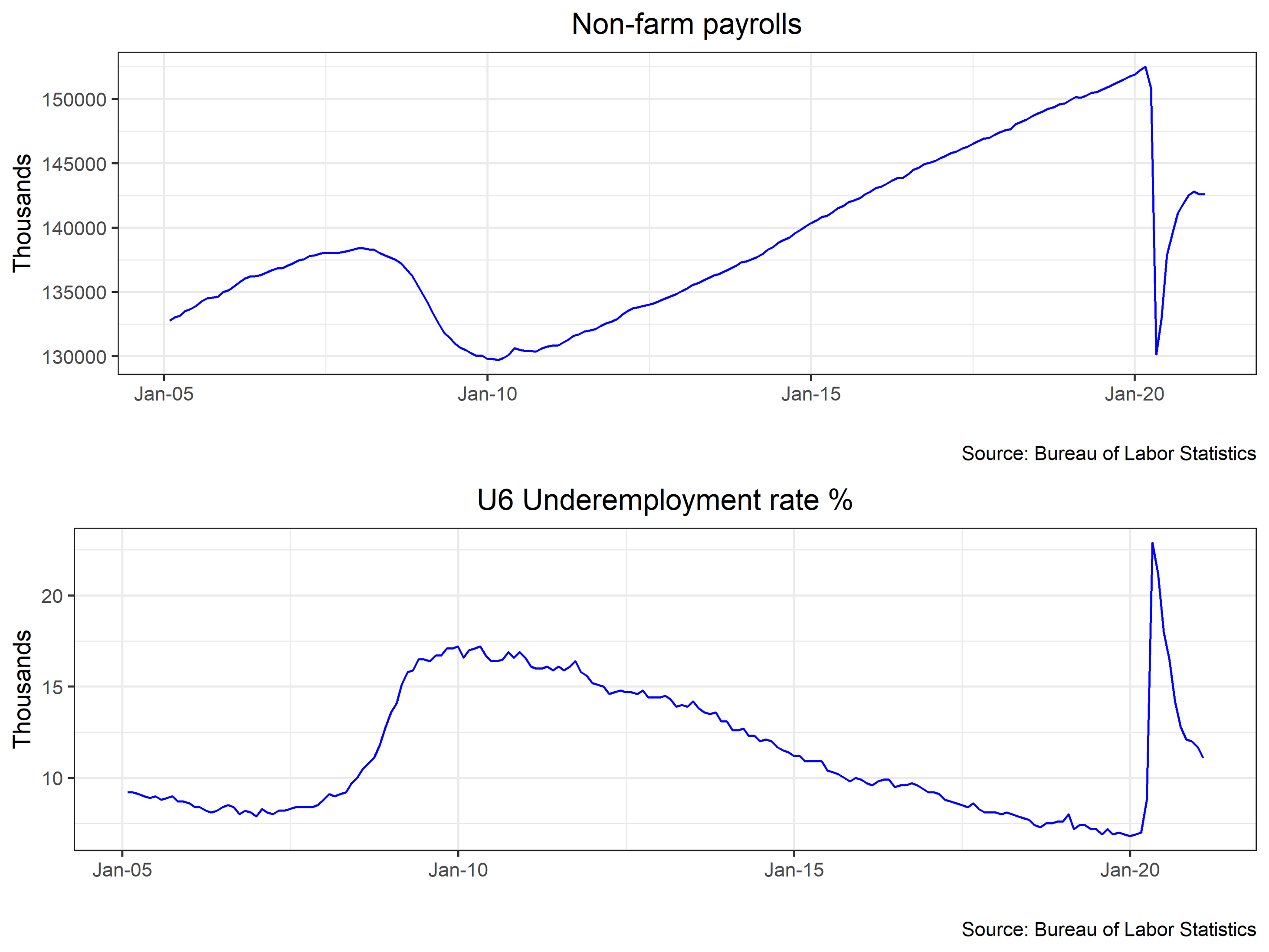 On that note, the passing of all or most of the proposed $1.9 trillion stimulus package is looking more and more certain.  Despite an ongoing debate around the CBO's output gap numbers (which some circles believe to be much too conservative), the proposed bill will likely go quite some distance to helping correct the U.S. economy following the end of the pandemic.  Brookings estimates that the package will help output reach and even surpass pre-pandemic trend as soon as Q4 2021.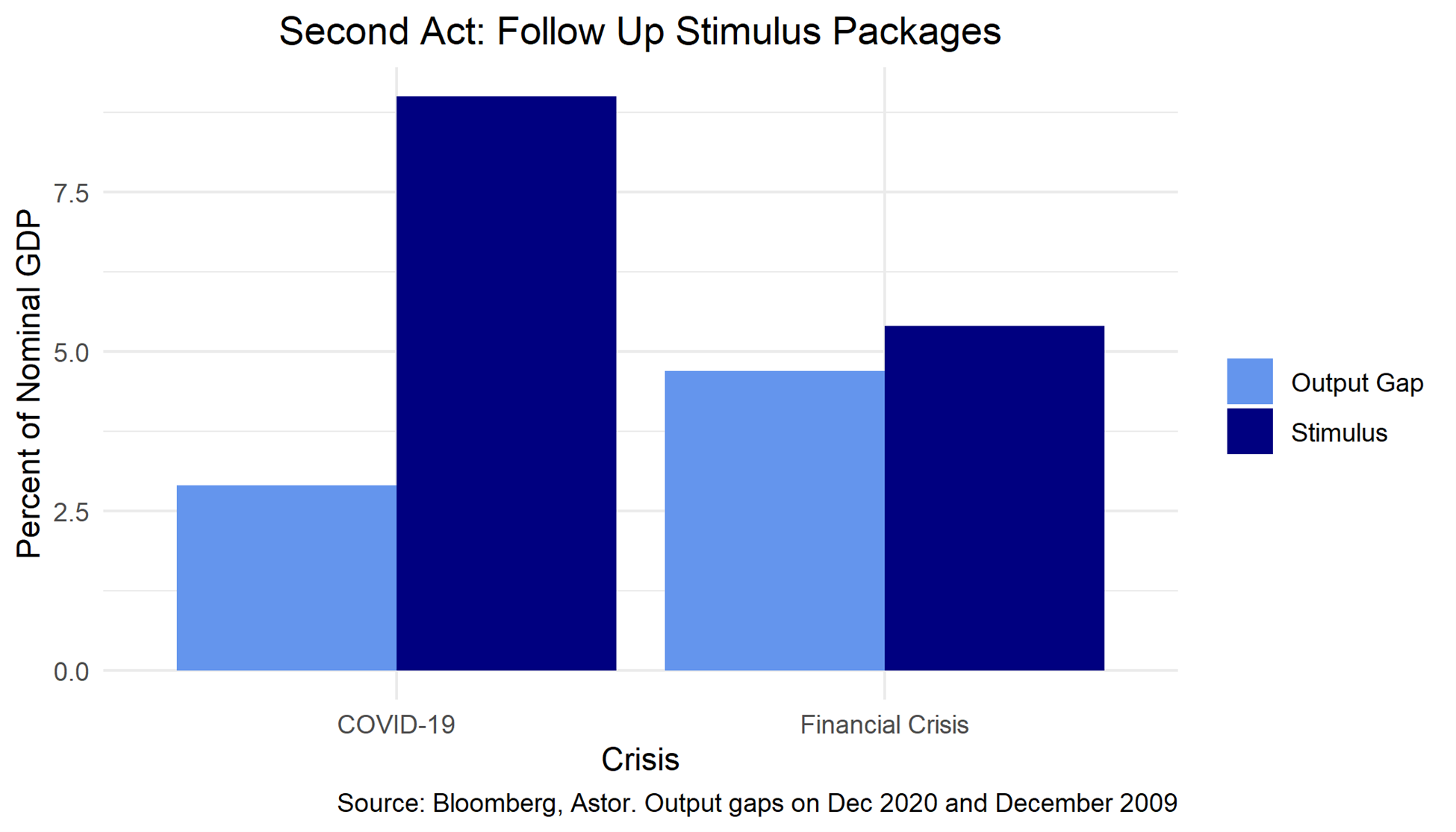 The second half of the year will be eventful if COVID-19 indeed meets something approximating a demise, with flush consumers, somewhat constrained supply, active monetary policy and a tilt towards letting the economy run hot.  Although our general belief (and the bond market's) is that any inflationary pressures will be transient, we will keep a close eye on the numbers and the ongoing recovery.
The Astor Economic Index® is a proprietary index created by Astor Investment Management LLC. It represents an aggregation of various economic data points: including output and employment indicators. The Astor Economic Index® is designed to track the varying levels of growth within the U.S. economy by analyzing current trends against historical data. The Astor Economic Index® is not an investable product. When investing, there are multiple factors to consider. The Astor Economic Index® should not be used as the sole determining factor for your investment decisions. The Index is based on retroactive data points and may be subject to hindsight bias. There is no guarantee the Index will produce the same results in the future. The Astor Economic Index® is a tool created and used by Astor. All conclusions are those of Astor and are subject to change.
AIM-2/16/20-OP304