Our proprietary Astor Economic Index® is still showing strong growth in the US economy, though the index is near its low for 2018.  The economy as we measure it has thus far proved itself resilient to escalating trade tensions and steadily rising interest rates.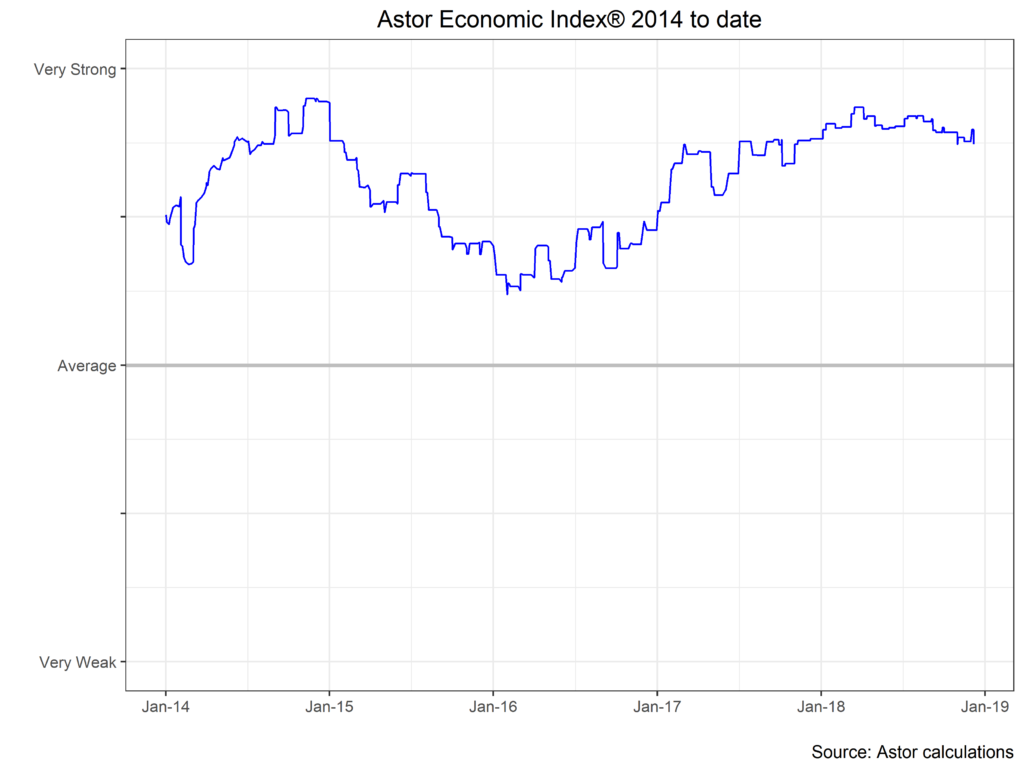 Labor market
The pace of hires slowed slightly last month – but this number is still above the number needed to accommodate our natural growth rate of new entrants to the workforce.  It is expected that as more and more people are lured in off the sidelines into the labor force the average increase in payrolls will continue to trend down.  As long as it happens gradually and does not show net job losses, we are unlikely to significantly downgrade our view of the economy.  We will be carefully watching for signs of a deteriorating labor market – often the first sign of broad slowdown in the economy.
Purchasing managers
One of the strongest indicators right now is coming from surveys of purchasing managers.  Both the manufacturing and non-manufacturing surveys are conducted the same way – they measure the number of firms who say business is getting better vs. the number saying it's getting worse.  If the index is at 50 about the same number are saying conditions are increasing as decreasing.  These surveys are not measures of output but they have been strongly correlated to output in the past.  Both are at very high levels today.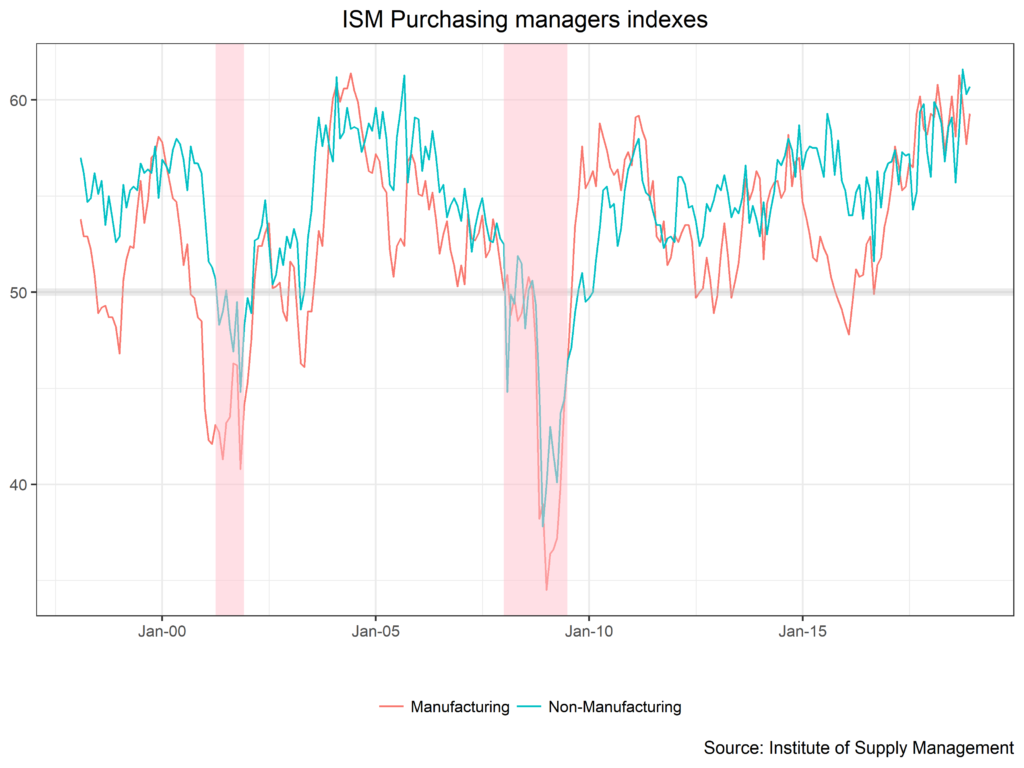 Fed Policy
We are still expecting another rate hike at next week's FOMC meeting and so is the usual interpretation of the Fed funds futures market.   Since the financial crisis the Fed has been unusually forthcoming about its future plans – think back to Fed Watchers trying to divine what "extended period" meant.  As they have gradually normalized policy this so-called "forward guidance" has been withdrawn along with other emergency measures.  The markets renewed focus on trying to parse every speech by every governor is a symptom of this.  Expect continued over-reactions as traders recalibrate to the new reality.
The Fed has been trying to emphasize that they are data dependent, so what is the data saying?  As our discussion of the labor market and the purchasing managers surveys suggest, as far as we can tell the economy is still growing at a good pace for a late expansion.  The chart below shows that inflation is about on target.  I think that the decisions after a hike in December is finely balanced and even the FOMC doesn't know the number of rate hikes coming in 2019.  Additional strength in the economy or worries about inflation will lead to more hikes, inflation falling or widespread evidence of a slowing economy could lead to few or none.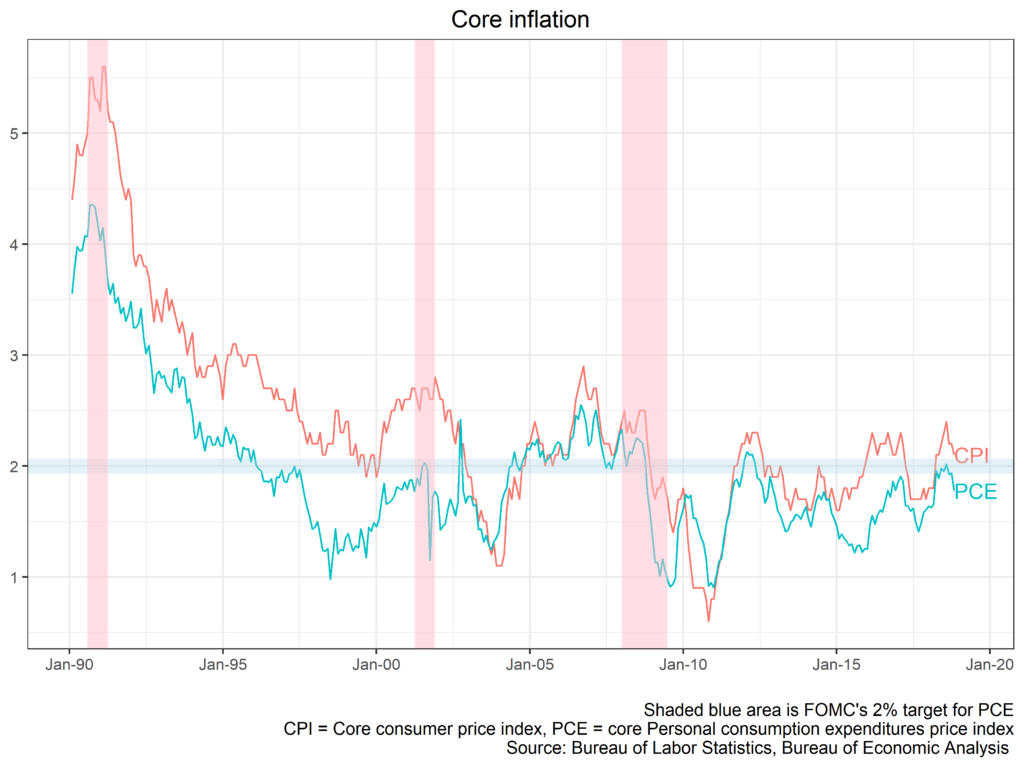 For still more charts you can see our weekly collection of economic charts or download the Astor Economic Research App from the App Store. As always, we at Astor will be monitoring the economy closely to inform our investment decisions.
All information contained herein is for informational purposes only. This is not a solicitation to offer investment advice or services in any state where to do so would be unlawful. Analysis and research are provided for informational purposes only, not for trading or investing purposes. All opinions expressed are as of the date of publication and subject to change. Astor and its affiliates are not liable for the accuracy, usefulness or availability of any such information or liable for any trading or investing based on such information.
The Astor Economic Index® is a proprietary index created by Astor Investment Management LLC. It represents an aggregation of various economic data points: including output and employment indicators. The Astor Economic Index® is designed to track the varying levels of growth within the U.S. economy by analyzing current trends against historical data. The Astor Economic Index® is not an investable product. When investing, there are multiple factors to consider. The Astor Economic Index® should not be used as the sole determining factor for your investment decisions. The Index is based on retroactive data points and may be subject to hindsight bias. There is no guarantee the Index will produce the same results in the future. The Astor Economic Index® is a tool created and used by Astor. All conclusions are those of Astor and are subject to change.
2018-272