Another month has passed as we hurtle to the New Year, and we find the Astor Economic Index at a similar level as in weeks past. In aggregate, the AEI (and our) view of the U.S. economy is that of continued strength, with a vigorous labor market and consumer demand. We discuss some of the details below.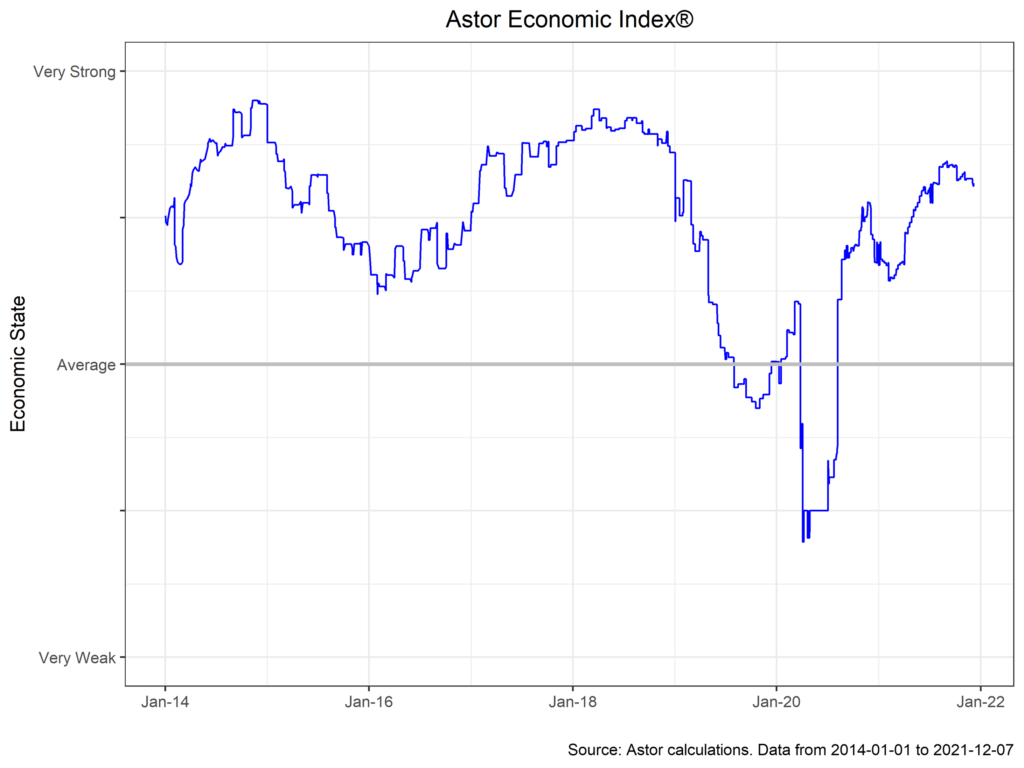 Non-farm payrolls disappointed this month, although nuances suggest the numbers are less tepid than at first glance. Employers added 210,000 employees to payrolls in November, significantly below Bloomberg survey expectations of 550,000. The household survey, however, told a different story, with unemployment falling to 4.2% on the back of 1.1 million new jobs. Labor participation also improved to 61.8%. Despite the divergence in the establishment and household survey, our interpretation of these numbers is broadly positive – workers are moving off the sideline, and wage growth is strong, with average hourly earnings printing at 4.8% y/y.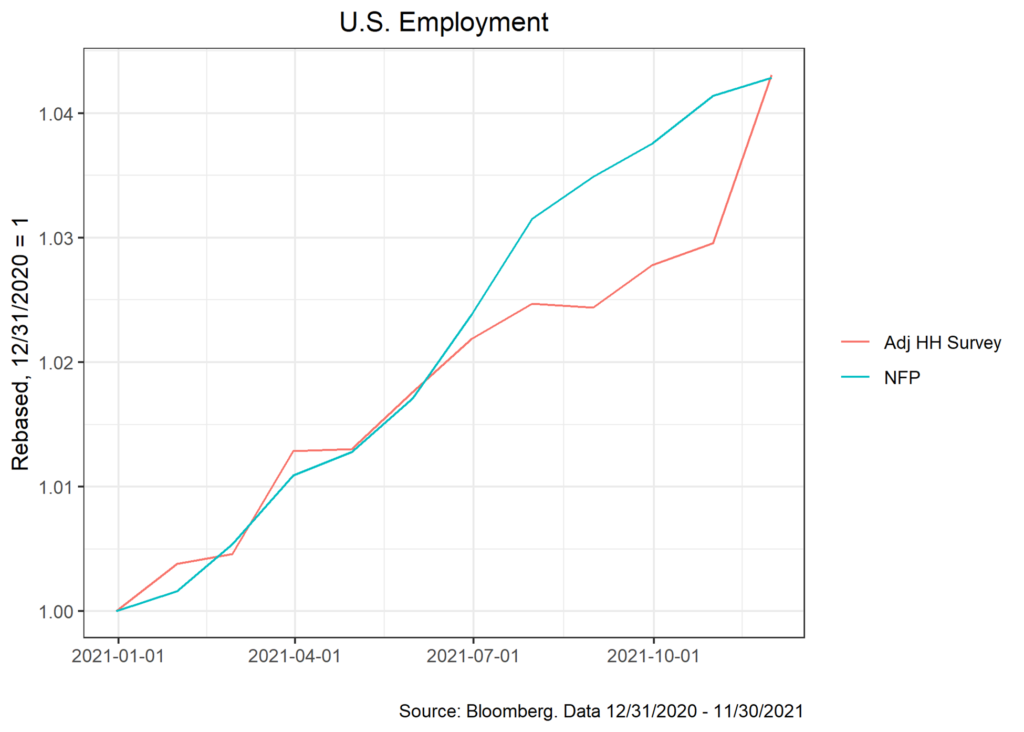 Expectations for Q4 GDP, meanwhile, are robust, with the average Bloomberg real GDP forecast at 5.1% (up from 4.9% in November). U.S. consumer demand remains solid, albeit tilted towards goods, with advanced retail sales up 0.9% in the second week of November. Despite the positive domestic outlook, consumer sentiment is about as lousy as it's ever been during an expansion. Sentiment is closely linked to gas prices and broader inflation – both of which have been skyrocketing of late.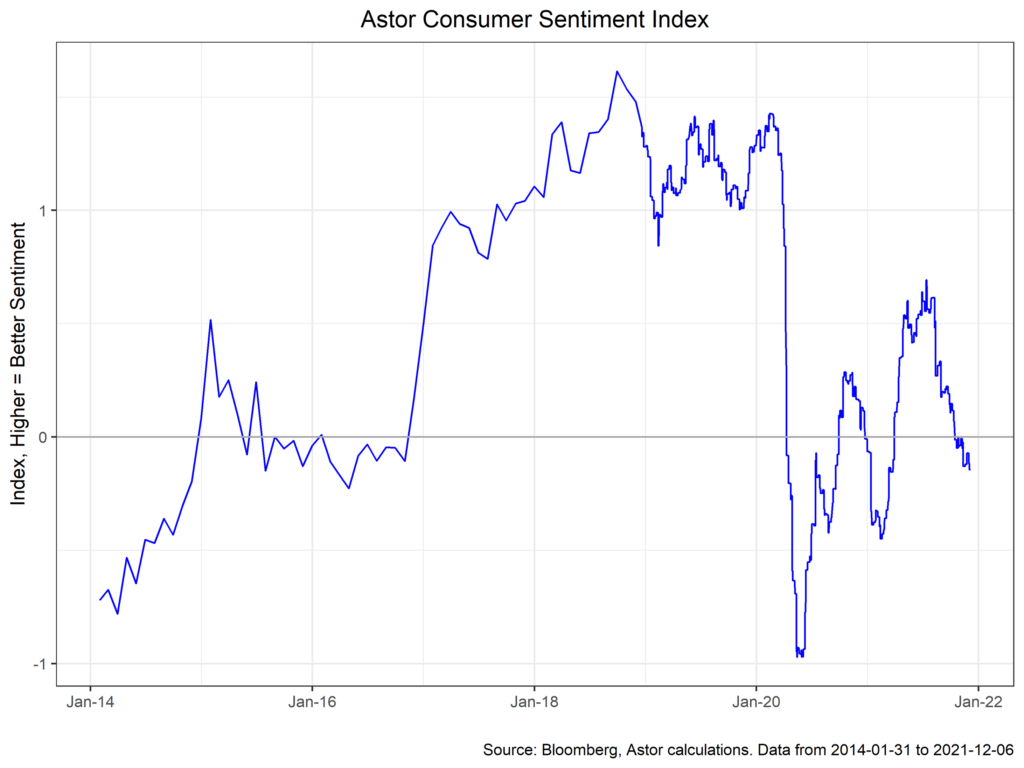 In aggregate, the U.S. economy is ticking along despite downside risks from the Omicron variant and a faster Fed hiking cycle. Financial market volatility has picked up in recent weeks as the market mulls over the impact a higher rate environment, with the Fed signaling that they are open to speeding along their tapering of asset purchases. Financial markets are now pricing in about 75bps of rate hikes in 2022, with the first hikes likely to come by June of next year. Inflation and the Fed's reaction function remains the key risk to the U.S. economy, and we will be carefully scrutinizing November's CPI print later this week for signs of abatement or broadening.
Astor Investment Management LLC is a registered investment adviser with the SEC. All information contained herein is for informational purposes only. This is not a solicitation to offer investment advice or services in any state where to do so would be unlawful. Analysis and research are provided for informational purposes only, not for trading or investing purposes. All opinions expressed are as of the date of publication and subject to change. They are not intended as investment recommendations. These materials contain general information and have not been tailored for any specific recipient. There is no assurance that Astor's investment programs will produce profitable returns or that any account will have similar results. You may lose money. Past results are no guarantee of future results. Please refer to Astor's Form ADV Part 2A Brochure for additional information regarding fees, risks, and services.
The Astor Economic Index®: The Astor Economic Index® is a proprietary index created by Astor Investment Management LLC. It represents an aggregation of various economic data points. The Astor Economic Index® is designed to track the varying levels of growth within the U.S. economy by analyzing current trends against historical data. The Astor Economic Index® is not an investable product. The Astor Economic Index® should not be used as the sole determining factor for your investment decisions. The Index is based on retroactive data points and may be subject to hindsight bias. There is no guarantee the Index will produce the same results in the future. All conclusions are those of Astor and are subject to change. Astor Economic Index® is a registered trademark of Astor Investment Management LLC.
AIM-12/9/21-BP502