Our proprietary Astor Economic Index® deteriorated slightly last month and is showing about average growth in the U.S. economy.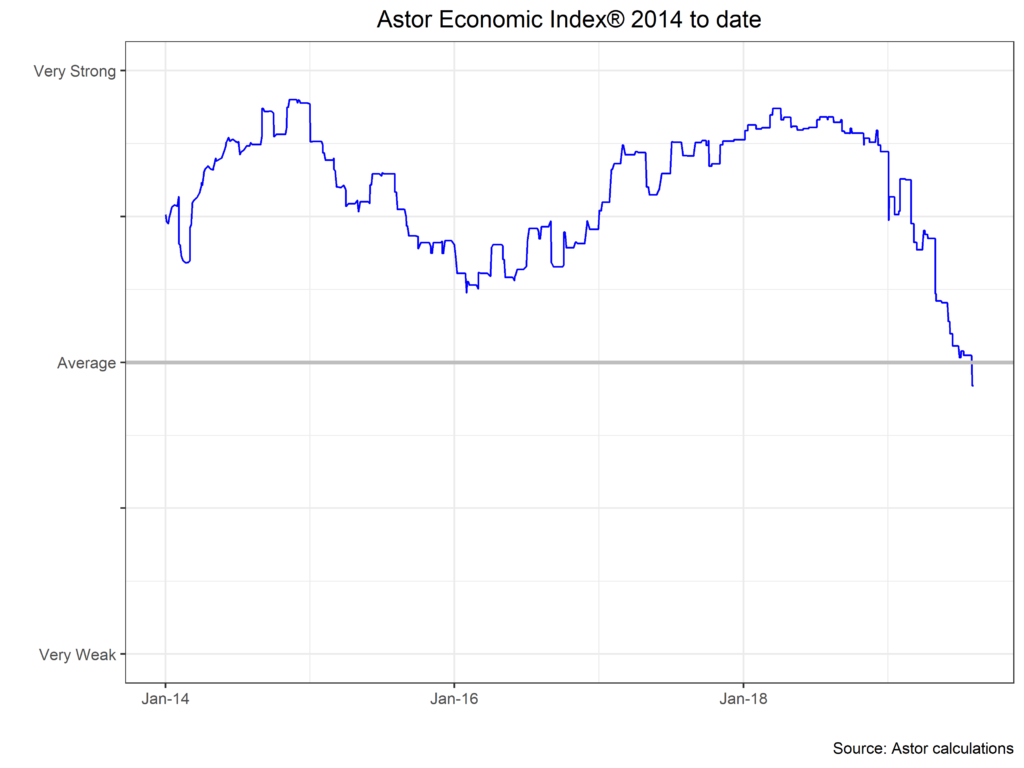 Labor Market
My interpretation is that the labor market is slowing somewhat and in the next few years, we will not enjoy the regular robust gains we have seen since the Global Financial Crisis. For example, the growth in the number of Americans employed is as low as it has been since 2011, as measured by year-on-year percentage change. Although it seems to still be above the number necessary to take up all the expected new entrants to the work force.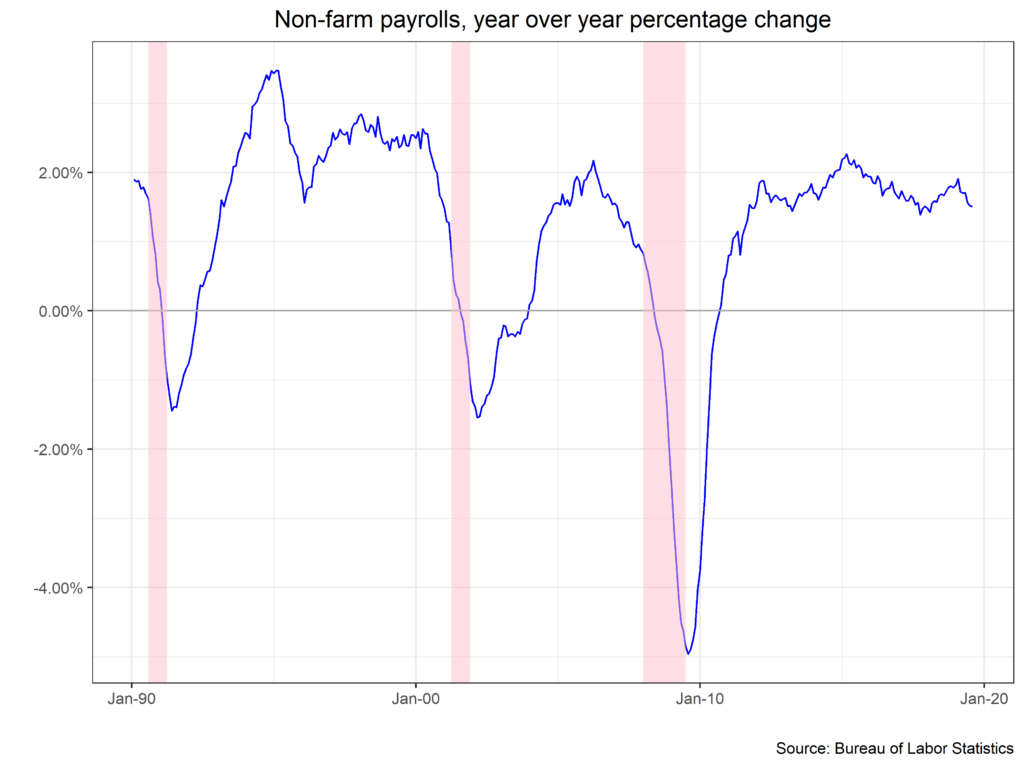 The labor market shows signs of both strength and weakness. An example of a stronger number is the decline of those who report working part time despite desiring and being available for full-time work. An example of a statistic which is a bit more disturbing is a drop in the hours worked.
International Environment
The global manufacturing environment is doing somewhat worse than the U.S. In the chart below, we weight the manufacturing purchasing managers indexes for 20 major countries by GDP. This reading has fallen below 50 which marks expansion/contraction and is now below where it bottomed out in the energy recession of 2016.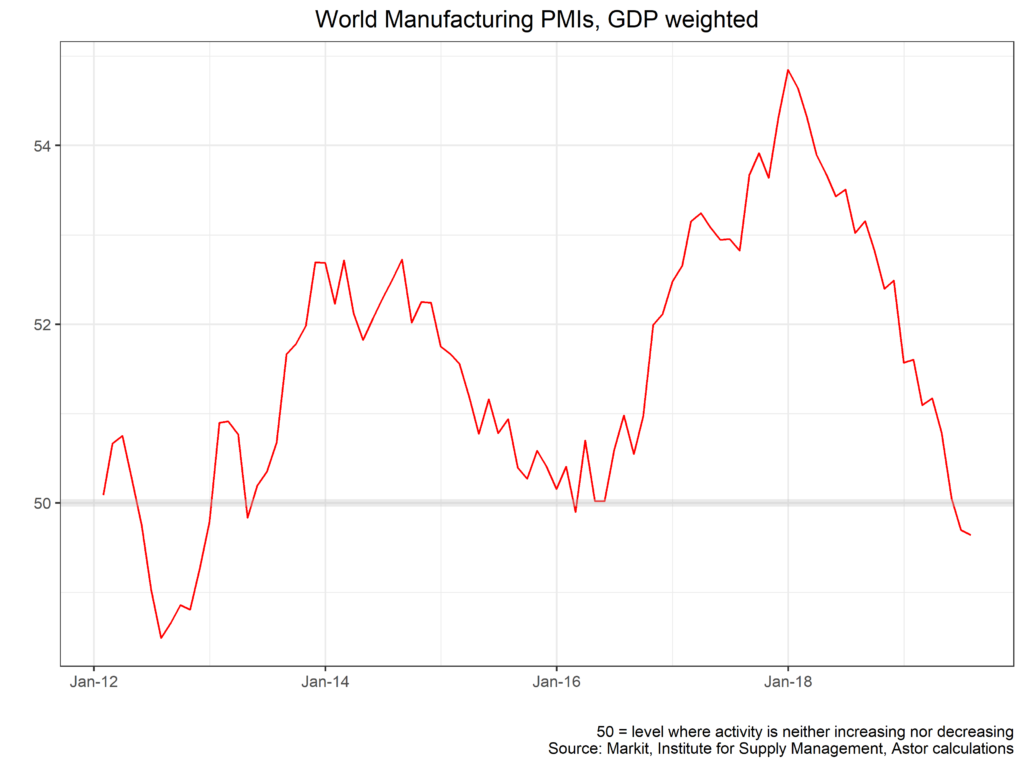 One major culprit is the increased trade tensions and associated direct disruption and the associated uncertainty of a major adjustment to the global value chain. We could be entering on a period of moderation of the ever-expanding globalization which has been the consistent story over the last 30 years.
Federal Reserve Stance
As expected, the Fed cut rates in July citing the weak international environment, trade uncertainty and concern about hitting the inflation target. In his press conference, Chair Powell tried to set expectations such as if the data remained close to where it has been, 0-2 additional cuts could be in the offing, but not an extended easing cycle. Since the press conference, however, the U.S. has raised tariffs on chinese goods and China has retaliated. The markets moved to anticipate additional easing after these actions.
Pay more attention than usual to Fed speeches between now and September's meeting. If the market has gotten ahead of the Fed, expect comments to try to dampen enthusiasm.
Conclusion
Overall, I still see U.S. economic growth as being around potential although recent weakness is concerning. The international environment is most likely the source of trouble.
For still more charts you can see our collection of economic charts or download the Astor Economic Research App from the App Store. As always, we at Astor will be monitoring the economy closely to inform our investment decisions.
Astor Investment Management LLC is registered with the Securities and Exchange Commission as an investment adviser. All information contained herein is for informational purposes only. This is not a solicitation to offer investment advice or services in any state where to do so would be unlawful. Analysis and research are provided for informational purposes only, not for trading or investing purposes. All opinions expressed are as of the date of publication and subject to change. Astor and its affiliates are not liable for the accuracy, usefulness or availability of any such information or liable for any trading or investing based on such information. These materials contain general information and have not been tailored for any specific recipient. There is no assurance that Astor's investment programs will produce profitable returns. These materials are not intended to cause Astor Investment Management LLC to become a fiduciary within the definition of Section 3(21)(A)(ii) of the Employee Retirement Income Security Act of 1974, as amended or Section 4975(e)(3)(B) of the Internal Revenue Code of 1986, as amended.
The Astor Economic Index® is a proprietary index created by Astor Investment Management LLC. It represents an aggregation of various economic data points: including output and employment indicators. The Astor Economic Index® is designed to track the varying levels of growth within the U.S. economy by analyzing current trends against historical data. The Astor Economic Index® is not an investable product. When investing, there are multiple factors to consider. The Astor Economic Index® should not be used as the sole determining factor for your investment decisions. The Index is based on retroactive data points and may be subject to hindsight bias. There is no guarantee the Index will produce the same results in the future. The Astor Economic Index® is a tool created and used by Astor. All conclusions are those of Astor and are subject to change.
2019-314